Quincy, Mass., October 6th, 2018 — CryptoLiveLeak is proud to announce a partnership with new centralized cryptocurrency exchange – Kanga.Exchange. The CLL CryptoLiveLeak ERC20 token will be listed for Trading on Monday, October 8th, 2018.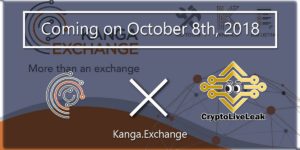 In addition to the Listing we are also providing 1,000,000 CLL to Airdrop to Kanga Exchange Users. On October 14th, 2018 anyone who is a registered user on Kanga Exchange will split the 1,000,000 CLL to be distributed by Kanga.Exchange.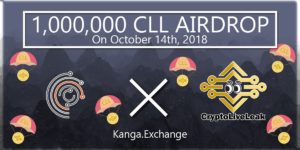 Lastly we are excited to announce a Trading Competition that will take place on Kanga.Exchange starting October 14th through October 31st, 2018. Participate in trading CLL on Kanga Exchange during the competition. Top 500 accounts with the highest trading amount of CLL (buys + sells) on Kanga Exchange will share 1,000,000 CLL as rewards!
Ranking           Number of users           The number of prizes (CLL)
1                                  1                                   100,000
2                                  1                                     80,000
3                                  1                                     50,000
4                                  1                                     30,000
5                                  1                                     20,000
6 ~ 10                          5                                     10,000
11 ~ 25                       15                                      5,000
26 ~ 50                       25                                      4,000
51 ~ 100                     50                                      2,400
101 ~ 200                  100                                     1,600
201 ~ 500                  300                                   716.67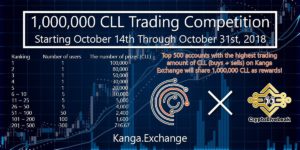 CryptoLiveLeak is a cryptocurrency News and Media platform designed to provide the most up to date information on the cryptocurrency markets. Besides our website, www.cryptoliveleak.org, we have numerous social media channels including YouTube, Twitter, Instagram, Facebook, Reddit, Telegram, Medium, and Slack. The more technical side of our project can be found open source on Github.
We have created the new cryptocurrency ERC-20 token – CLL (CryptoLiveLeak Token) to be utilized as a Utility Token for our platform.
Through a mechanism we call Attention Mining we have integrated the CLL token with our platform to innovative ways the audience and social media interact. The CLL Token can be earned by Registered Users on our website www.cryptoliveleak.org. Users can post content on our online social blog and when another user views, watches video, likes, comments or interacts with the post it triggers a reward action. Both Users are rewarded CLL Points which can then be exchange for CLL CryptoLiveLeak Erc20 Tokens on the sites internal exchange. The CLL Tokens get deposited into the Users Internal Wallet that can hold both CLL and ETH. The Users wallet address is visable on the Ethereum Blockchain explorer as well as a Summary of Transactions provided on the sites wallet. We have implemented a custom gas station on the exchange to ensure the lowest possible gas cost for our transactions. CryptoLiveLeak team will also look to expand and grow as the network matures. The CryptoLiveLeak (CLL) ERC20 token will give holders an unique way of participating in the evolution of our vision of blockchain tech disrupting the social media industry.
Kanga.Exchange – More Than An Exchange
Kanga Exchange is an unique blockchain-based platform for ICOs token listing and trading. Our simplified and streamlined ICO registration process, and seamless integration with critical support tools, introduce a new and unique environment to safely and quickly manage your cryptocurrency trades and investments. At launch, Kanga exchange will be centralized and will be replaced with decentralized version in our subsequent releases.