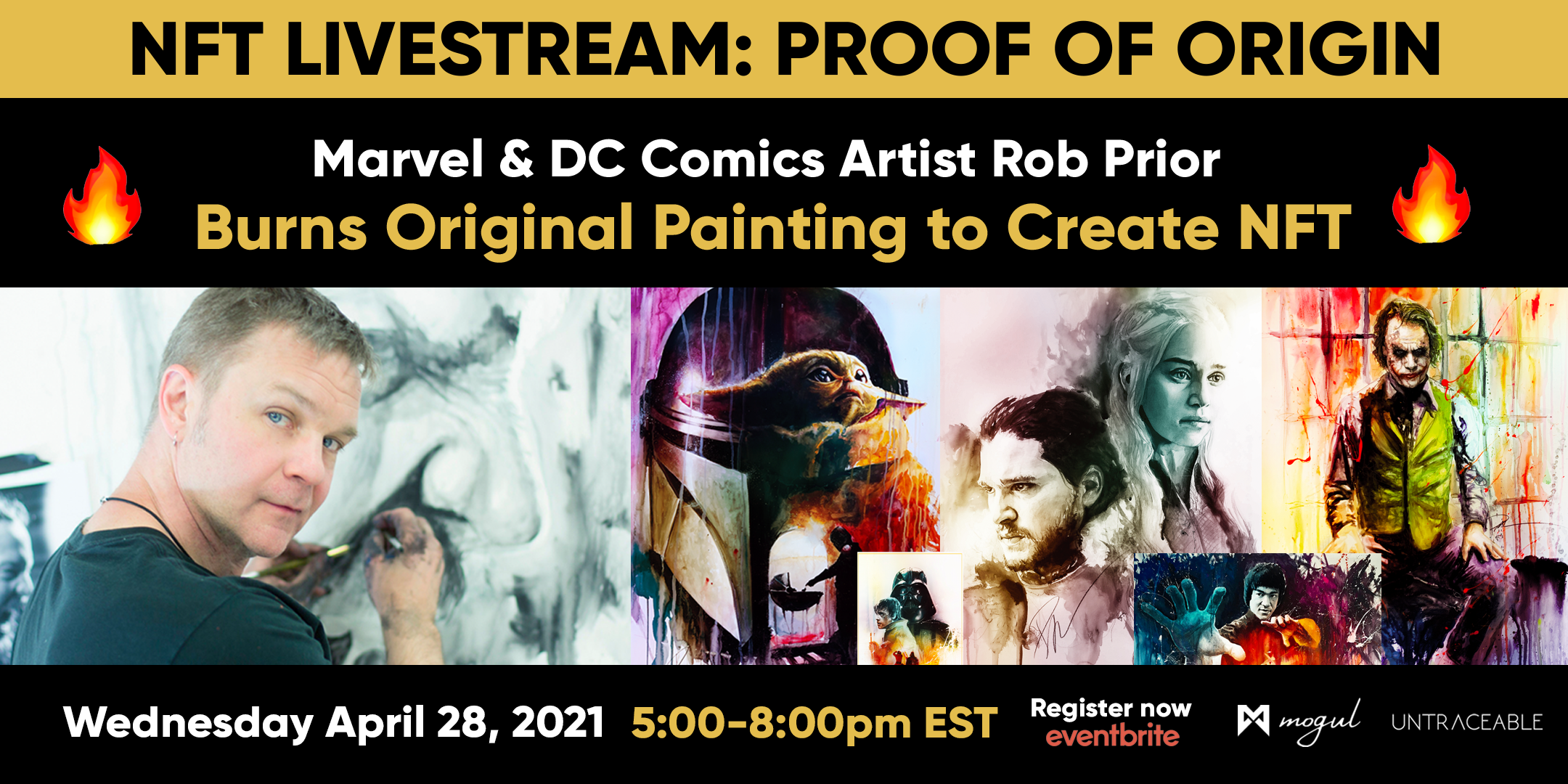 NFT Livestream: Watch Original Painting Burn as NFT is created by world- renowned Marvel & DC Comics Artist Rob Prior
NFT Livestream: Watch Original Painting Burn as NFT is created by world- renowned Marvel & DC Comics Artist Rob Prior
Join Rob Prior who will burn original painting to create a NFT to be auctioned on the Mogul Productions platform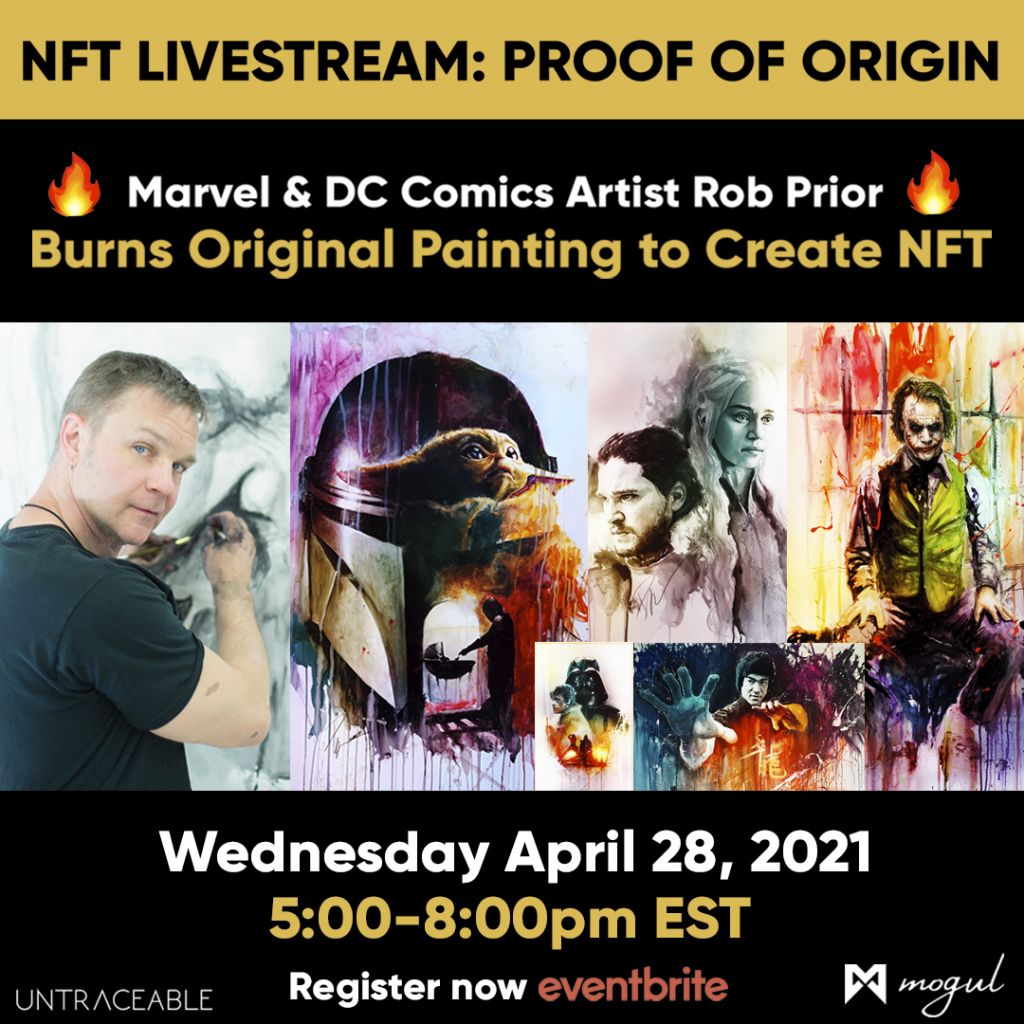 On April 28th, Mogul Productions and Untraceable Events will host a special event for crypto enthusiasts and newbies alike to join famed Marvel and DC Comics artist Rob Prior and other special guests to discuss the sudden rise and popularity of NFTs in the entertainment industry. Attendees will get to hear from titans in the blockchain, music, and film industries.
Interest in NFTs is surging in crypto and beyond. Notably, Mike Winkelmann, the digital artist known as Beeple , sold his "Everydays – The First 5000 Days" NFT for a record breaking $69 million. This NFT hype is not slowing down, as collectors are taking notice and have poured $90 million into NFTs and digital collectibles companies so far in 2021.
"This event signifies the upward trajectory of NFTs as they continue to solidify their transformative value in the entertainment industry. Mogul is excited to showcase Rob's pieces in this iconic event featuring the first mainstream comic book and film artist burning his own artwork live on camera so it will only live as an NFT," said Lisa Sun, Founder and President of Mogul Productions.
Rob will burn his original painting on camera at the end of the event and unveil the digitized NFT after the burn. The painting, which is inspired by Wolf of Wall Street, will have fiat money falling from the sky; it will be burnt to prove that the future of art, and Wall Street, is meant to be on the blockchain.
Rob's painting will only live on as a digitized ERC1155 NFT and will be auctioned exclusively on the Mogul platform. During the event, Rob will also be live painting and unveiling his next two NFT drops, including a Marvel-inspired Deadpool rendition and a Star Wars painting of Luke Skywalker.
To sign up for the NFT Livestream: Proof of Origin Event, please click Here
NFT Livestream Details:
Wednesday April 28th, 2021
5:00pm – 8:00pm EST
Mogul Productions launched their platform earlier this year with over 37,000 sign-ups in the first 6 weeks of being live. The company has also launched their Access Pass Sale with a limited number of Access Passes available on their website.
For media inquiries, please contact Raneem Hamad at (310) 260-7901 or Raneem(at)MelrosePR(dot)com.
About Mogul Productions (Mogul)
Mogul Productions is a decentralized film financing (DeFiFi) and NFT platform that connects creators, movie fans, and film financiers in one space to ensure the best films get made by giving everyone a voice. By leveraging blockchain technology and a tokenized system, Mogul incentivizes participation and rewards engagement. Using the Mogul in-app payment and utility token (STARS), users can vote on, greenlight and participate in key decision-making aspects of production. Mogul's production team and advisors are award-winning Hollywood veterans who have written, directed, acted in, and produced a wide range of films and TV shows.
About Untraceable
Untraceable is the first event marketing agency within the blockchain and cryptocurrency community in Canada. Founded in 2013 to help build and grow the crypto community, Untraceable provides a full suite of event marketing and advisory services. Untraceable specializes in designing cutting-edge events and marketing campaigns by seamlessly integrating crypto ticketing, event apps, token creation, and innovative tech solutions. Untraceable has organized hundreds of events from the first Bitcoin Expo in Canada to the first Ethereum hackathon, ETHWaterloo, Polycon, and Canada's largest blockchain event, Futurist Conference. For more information on Untraceable, please visit untraceableinc.com.
Reviews
Sharing
Tags