September 29th, 2019
New York, NY
By: Kenneth M. Garofalo
TQuorum is bringing together the business community, developers, researchers, validators, and more to discuss Tezos, the global blockchain ecosystem, and paths to adoption.
About the Event
The TQuorum: Global Summit is the capstone event in the TQuorum conference series. Featuring thought leaders and experts on digital assets and capital markets, the proof of stake ecosystem, blockchain development, and more, this multi-day conference has presentations and workshops for all levels of experience.
Featuring:
Focused on the proof of stake ecosystem, Incentivize features panels and workshops with industry leaders discussing how proof of stake networks evolve, the economics of staking, and the growing proof of stake business opportunities. Incentivize is co-hosted by the Proof of Stake Alliance (POSA) on Day 2 of the Summit.
Digitize is a primer on all things digital assets. The event covers the latest on tokenizing assets, STOs, and how blockchain-powered instruments are affecting the financial landscape. Digitize will feature three panel discussions on Day 3 of the Summit.
TQuorum Tezos Global Summit Day 1

Review of the Global Leadership Summit
Over 40 Tezos community leaders from around the world are coming together for the Global Leadership Summit to share best-practices on running effective Meetup groups, keeping communities engaged, and how to help the community grow. Please note that this is an invitation-only event.
As a participant in this event I can testify that the community is in great hands with this group of diversely talented and dedicated leaders. We started with introductions and then got into the main goals which included brand and narrative alignment, chapter programs, and brainstorming. As a truly decentralized community the task of getting everyone on the same page is monumental. I am looking forward to more official Tezos Commons chapters sprouting up, lead by the community members in this room. With a global reach I am confident this group with vastly expand the Tezos community over the course of the next year and beyond. Thank you the Shaun Belcher of Tezos Commons and Alison Mangiero of TQGroup for running the leadership summit.
Check out some exclusive pictures of the folks pushing the Tezos communities forward – these are the people building the following and engaging with community to bring awareness to the hidden gem that is Tezos. Be sure to give these guys all the support you can by interacting with them on social media or attending their global events.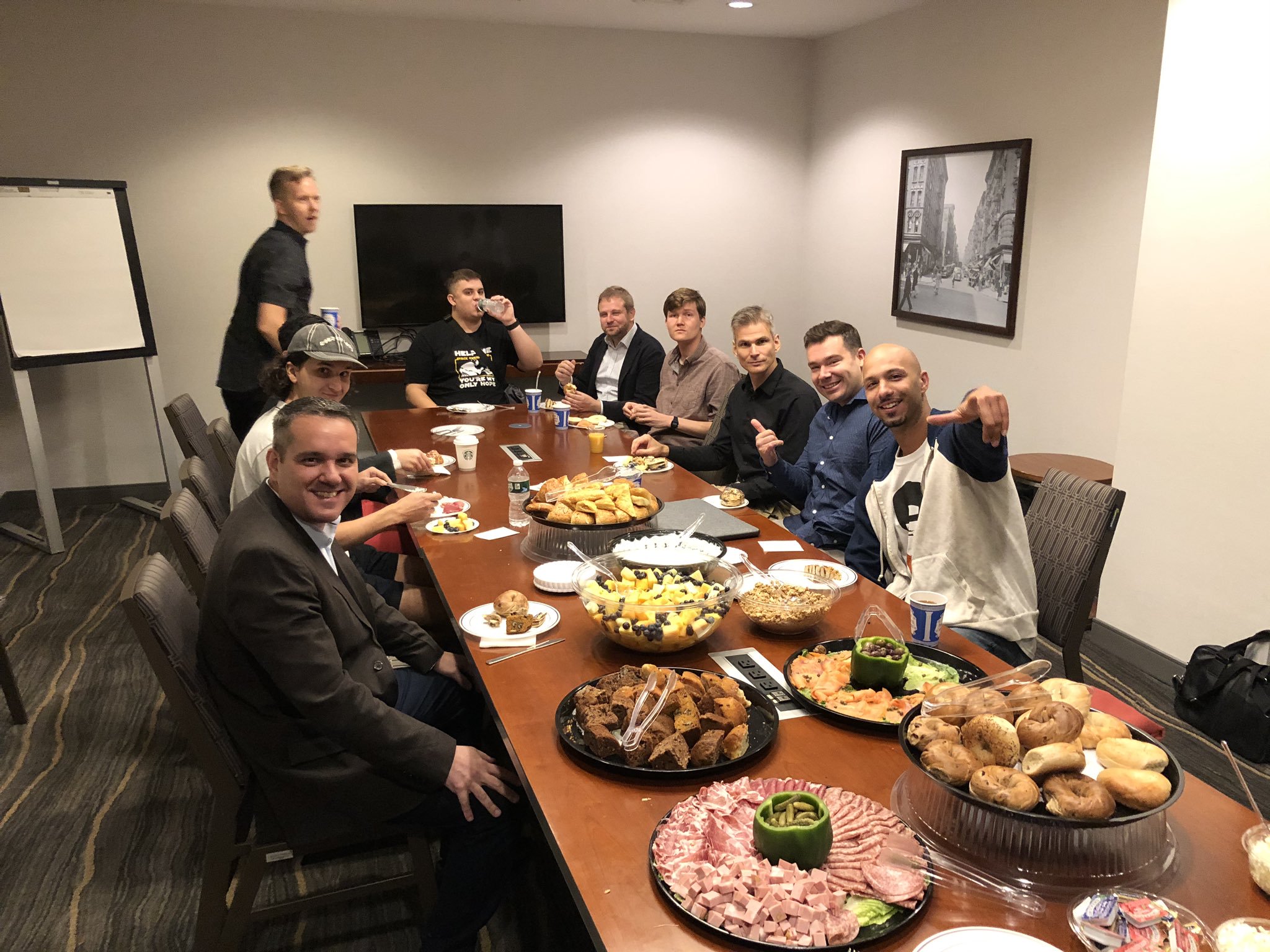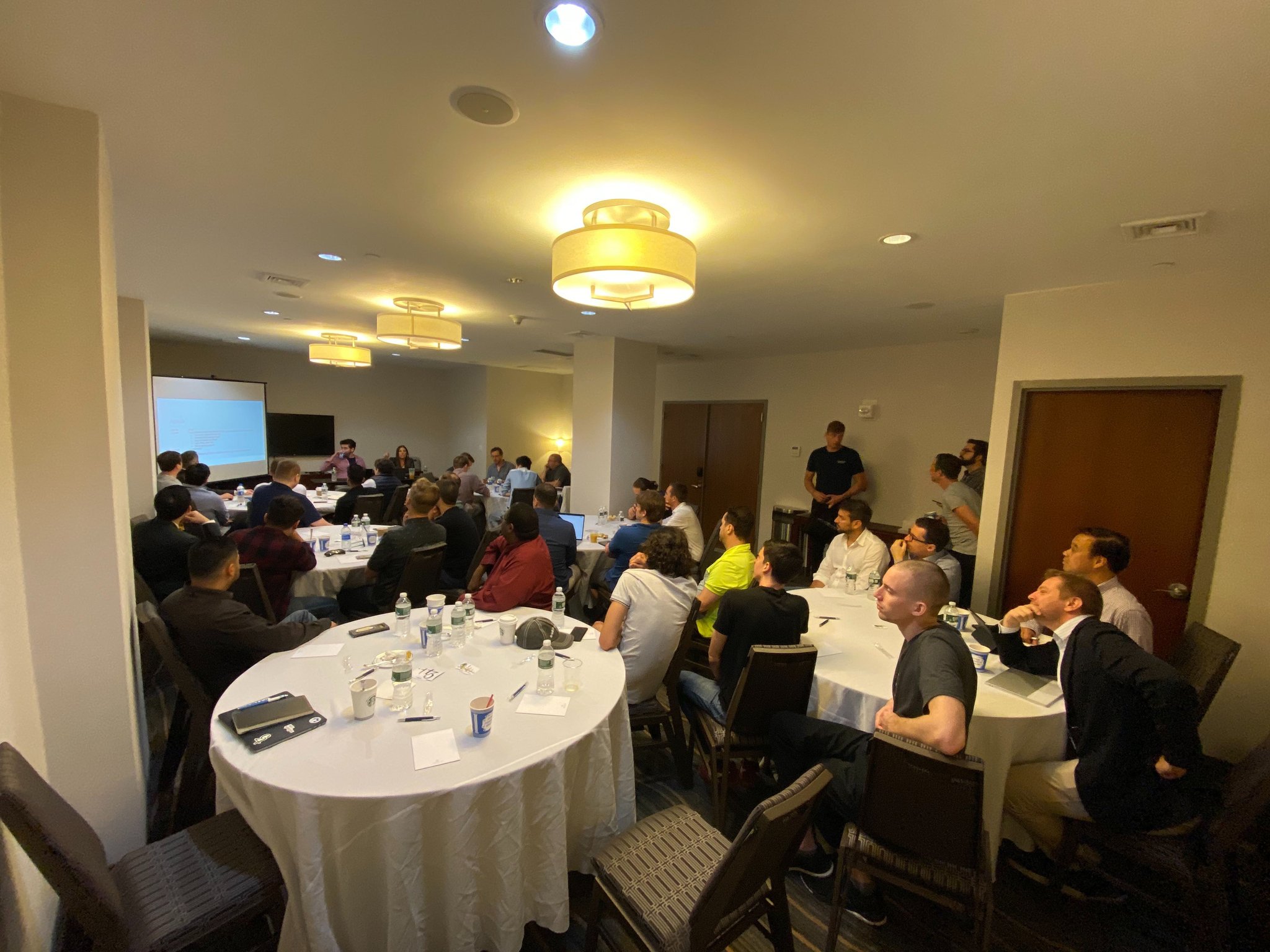 Welcome Party
After the leadership summit wrapped up we got refreshed and headed to the welcome party on the rooftop of the event venue. First class all the way, we had passed hors d'oeuvres of lobster rolls, pigs in a blanket, macaroni and cheese bites, and rigatoni to name a few. Open bar included top shelf liquors such as Johnny Walker Black and a bevy of premium beer choices. There must of been around 100 people or more at the party including the creator himself, Arthur Breitman. I was pleasantly surprised by the atmosphere and quality of people that were in attendance. Proud to say the Tezos Boston Community had its fair share of representatives there and all were engaging in meaningful, thought provoking conversations. Personally I'm a fan of the people that build the Tezos ecosystem, so to be able to share a drink and a talk with most everyone who's anyone in Tezos made this more than just a party… it made this an experience.
After the time expired and we had to clear out, a bunch of us headed back to the hotel lobby bar that we were staying at to finish our conversations and have more bonding time. It's rare that your co-workers can be such like-minded people that they become friends.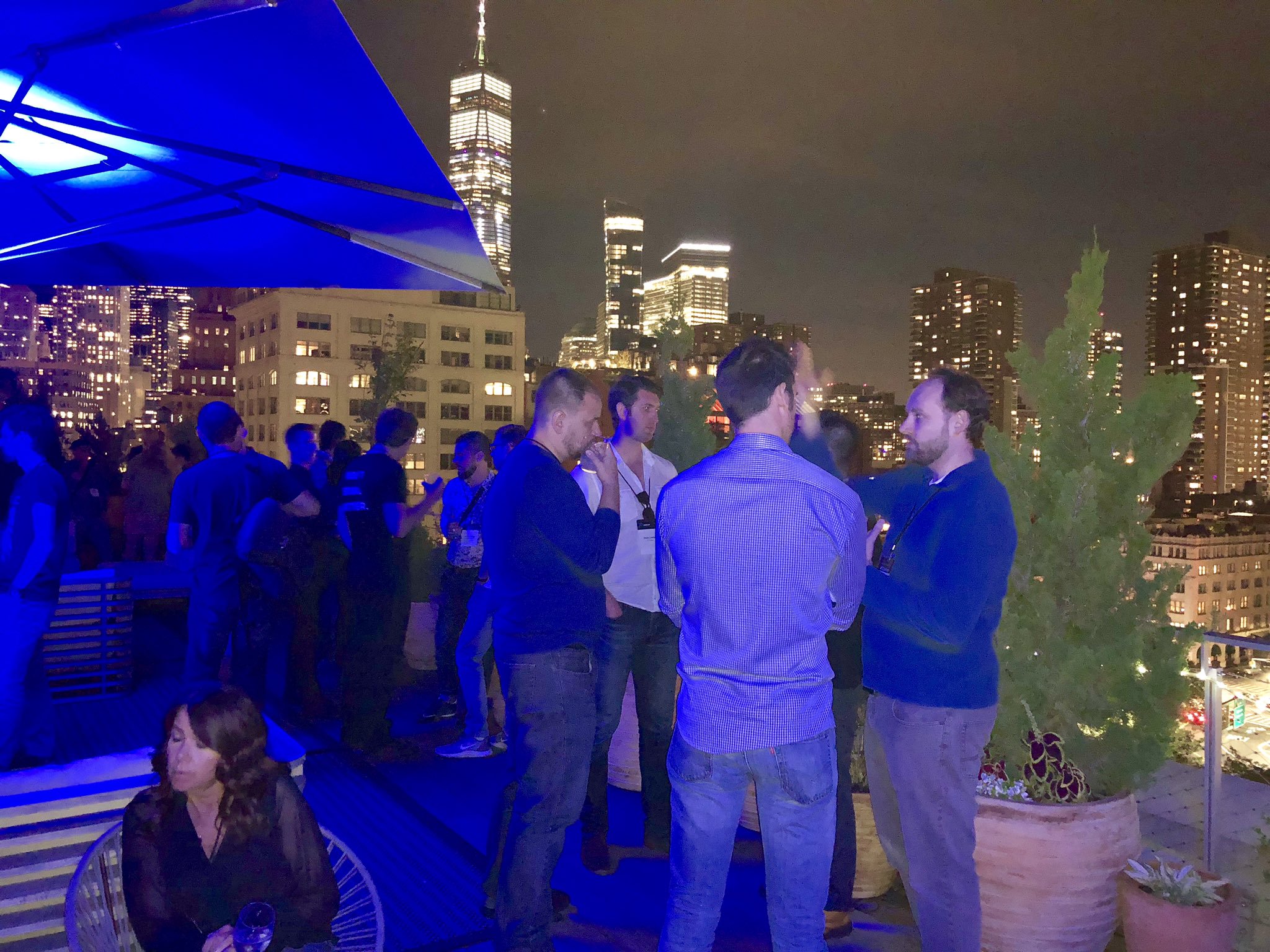 TQuorum Tezos Global Summit Day 2
Things got started early with some breakfast items like a massive juice and coffee spread with various other food items.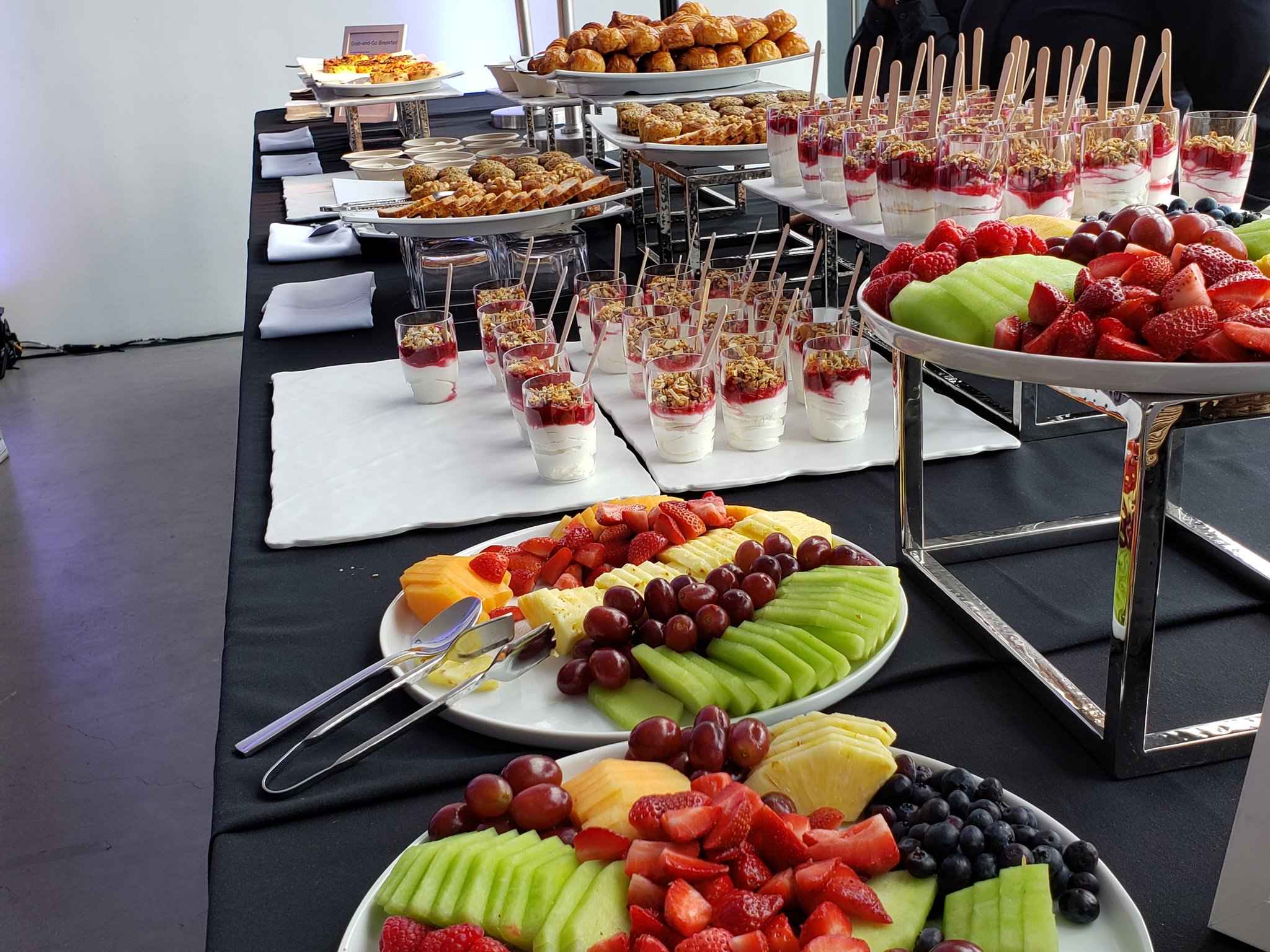 To start the main stage, Alison Mangiero gave the introduction to the first speaker of the day which was Ryan Jesperson the President of The Tezos Foundation. Our viewers are very familiar with Ryan and his efforts as we interviewed him for the CryptoLiveLeak YouTube Channel earlier this year.
Ryan has been a rock solid leader for the Tezos Foundation and if it wasn't for him, who knows if we would be here today.
"It's amazing to see how far we've come technologically in the last year." – Ryan Jesperson
"It's not only technologically, but also socially that we've come a long way. It's not just the technology, it's the community." -Ryan Jesperson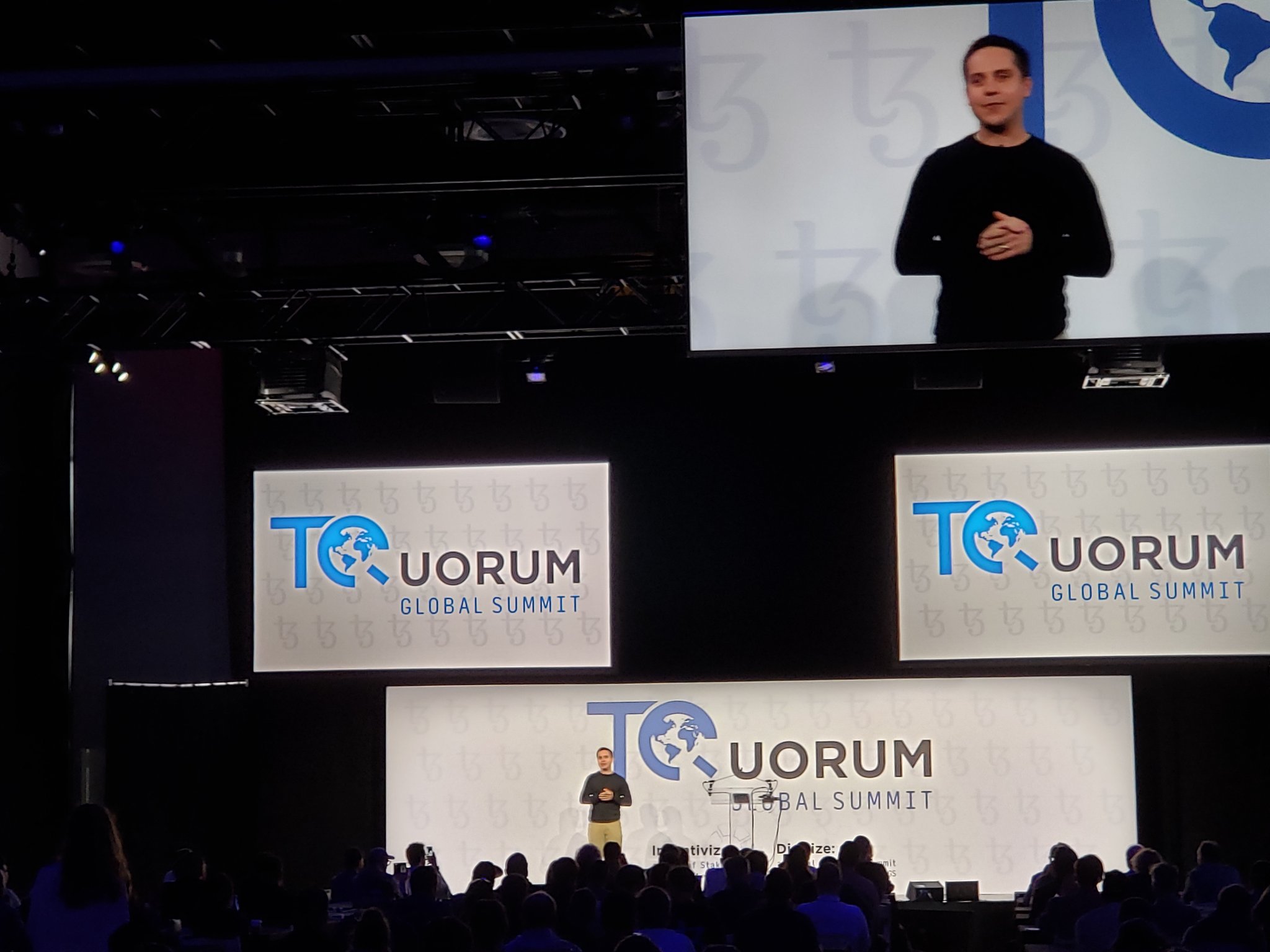 Next up we had roadmap presentation from Nomadic Labs
Benjamin Canou, CTO of Nomadic Labs, presents the current state of the Tezos protocol and highlights some of the upcoming milestones core developers are working towards.
Topics: 1. Protocol updates, 2. Shell updates, 3. Interoperability, 4. Formal methods
From the roadmap for the Tezos shell:
Improving storage: Bootstrapping nodes is a hard problem in blockchain, and making that process more efficient is a high priority. The other two big areas for for shell development are resilience, and improving the validation process to increase throughput.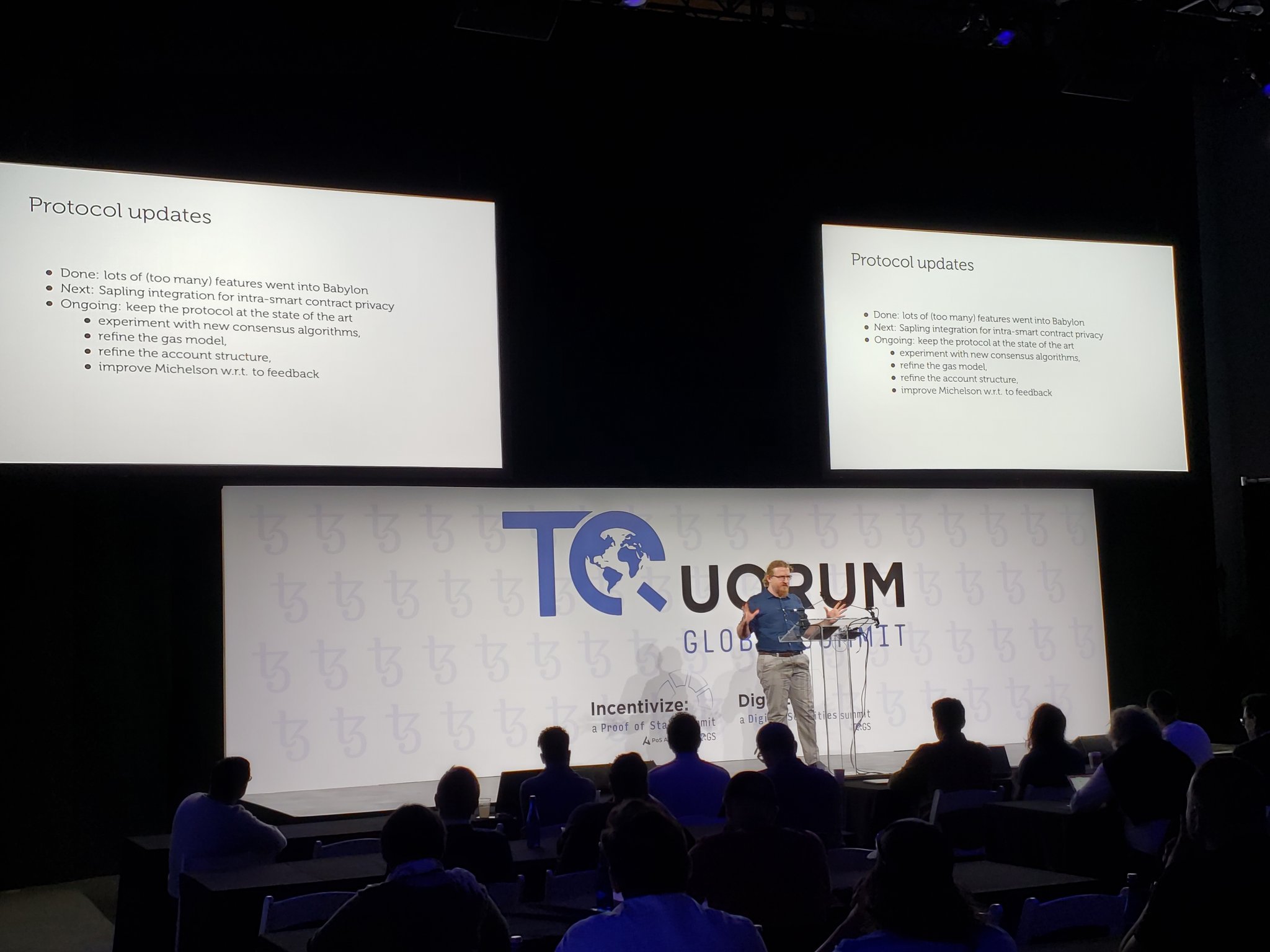 Next up we had Adrian Brink of Cryptium Labs detailing their roadmap talking ZKSnarks, consensus, and scalability.
"One of the main things we will be working on in 2020 is programmable staking. This will enable bakers a much higher degree of security as well as opsec flexibility for example enabling key rotation or non-custodial rewards payments" – Adrian Brink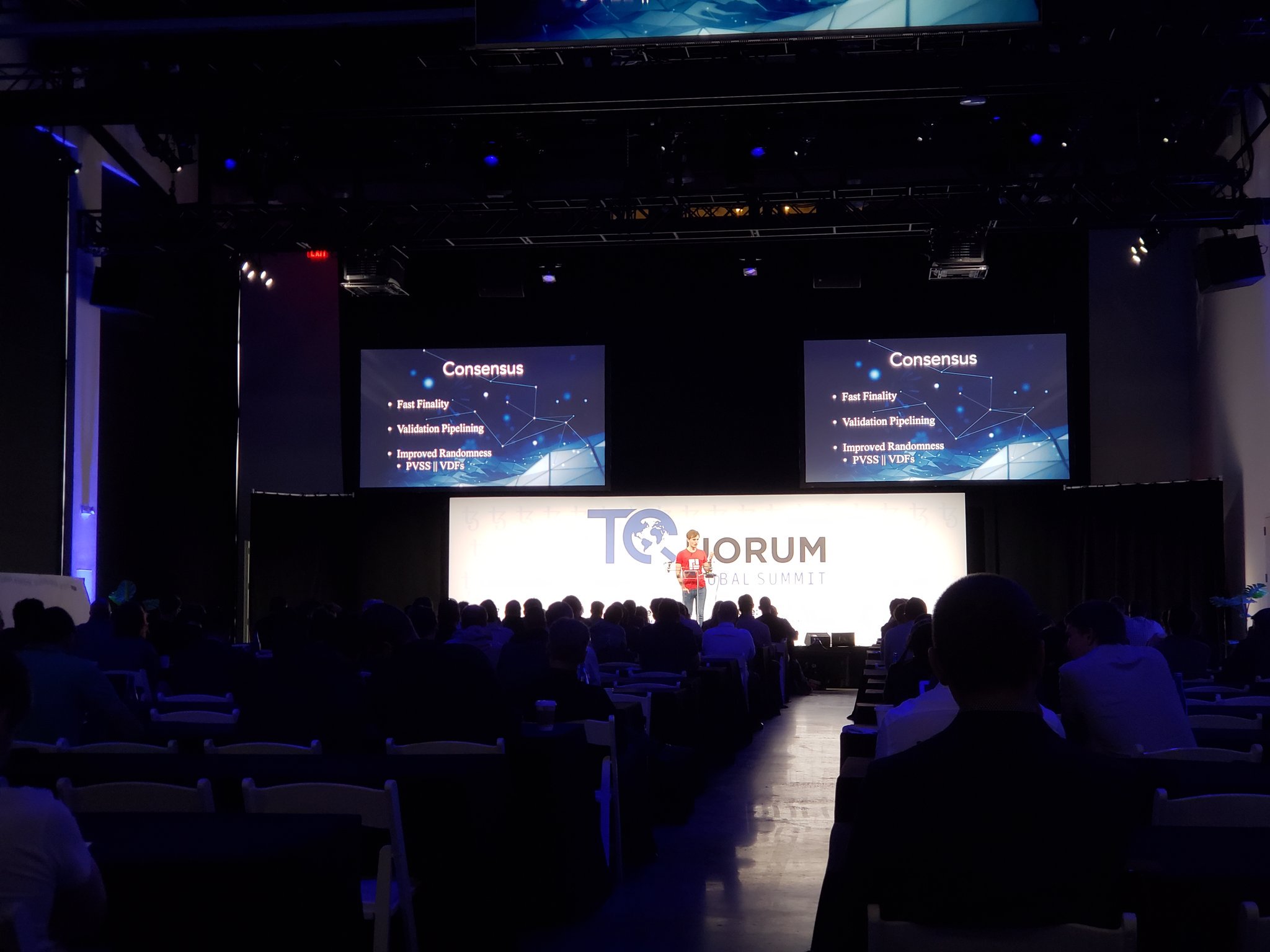 Next up we had The founder of Tezos Arthur Breitman talking about his new DeFi stable coin project called Checker that will be build on top of Tezos. Some new terms: Kit, Draught, Checker Token
CHECKER: ALGORITHMIC COLLATERALIZATION ON TEZOS
Tezos co-founder Arthur Breitman describes his latest project, Checker, "a software project implementing financial logic designed to help stabilize the value of a cryptographic coin with respect to an externally provided index." Learn about Checker's development, what Arthur aims to accomplish, and why he believes this will be an important ingredient in the Tezos ecosystem.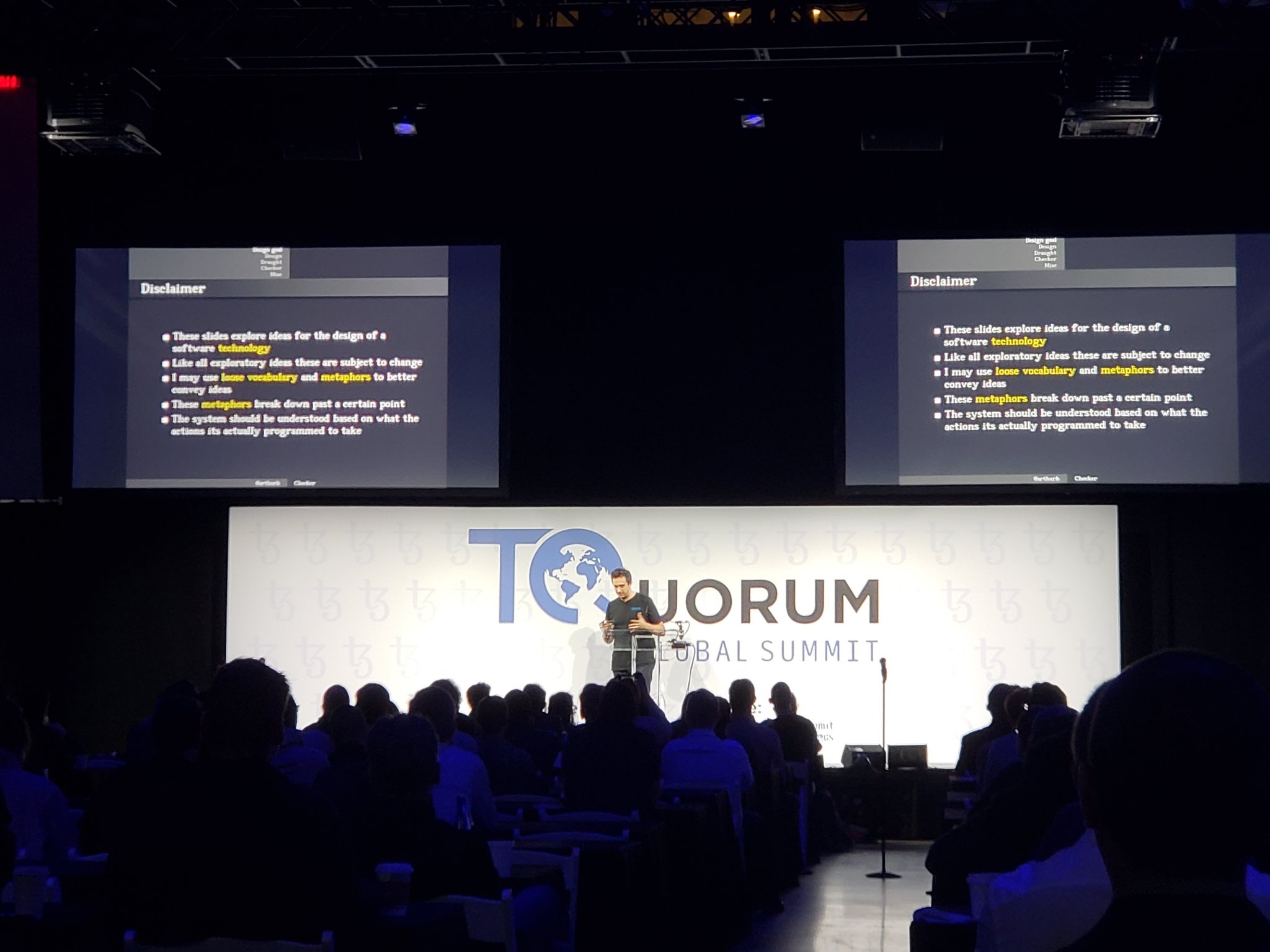 I had time to capture a quick livestream of the event which was posted to twitter here:
TEZOS-FLAVORED TRUFFLE: BAKING A MORE DELICIOUS DEVELOPMENT EXPERIENCE
The next speaker were G. Nicholas D'Andrea and Cruz Molina from Trufflesuite present the work their team has been doing to build fundamental tools for blockchain development, including their upcoming Tezos integration.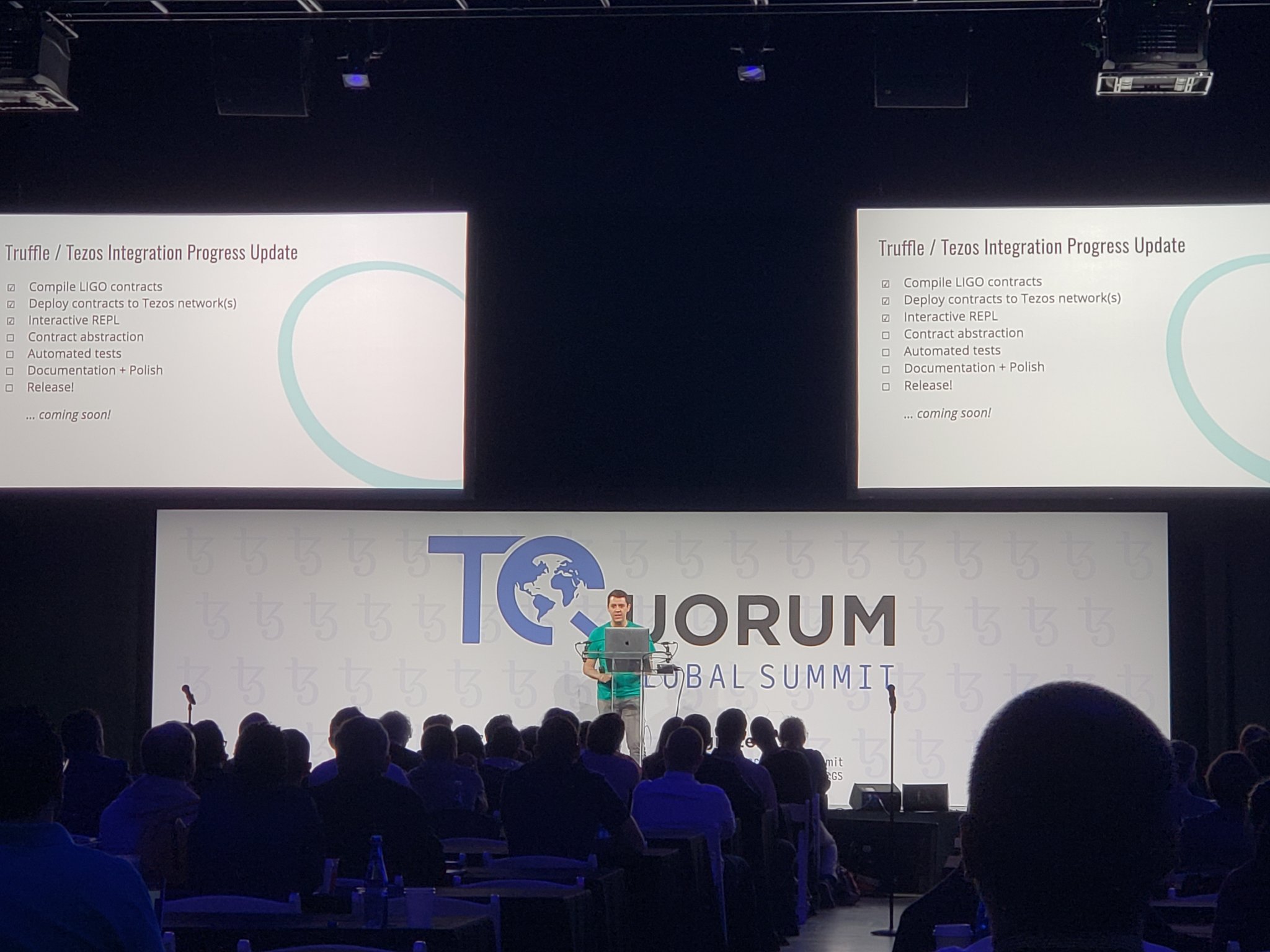 Technical Workshops
Next we took a small break from the main stage speakers to travel a floor below for technical demos. The first grouping of demos were as follows:
Featuring:
– Alessandro de Carli, Papers & Airgap
– Alexander Eichhorn, Blockwatch/Kid Tsunami
– Vishakh, Cryptonomic
– Juraj Selep, simplestaking.com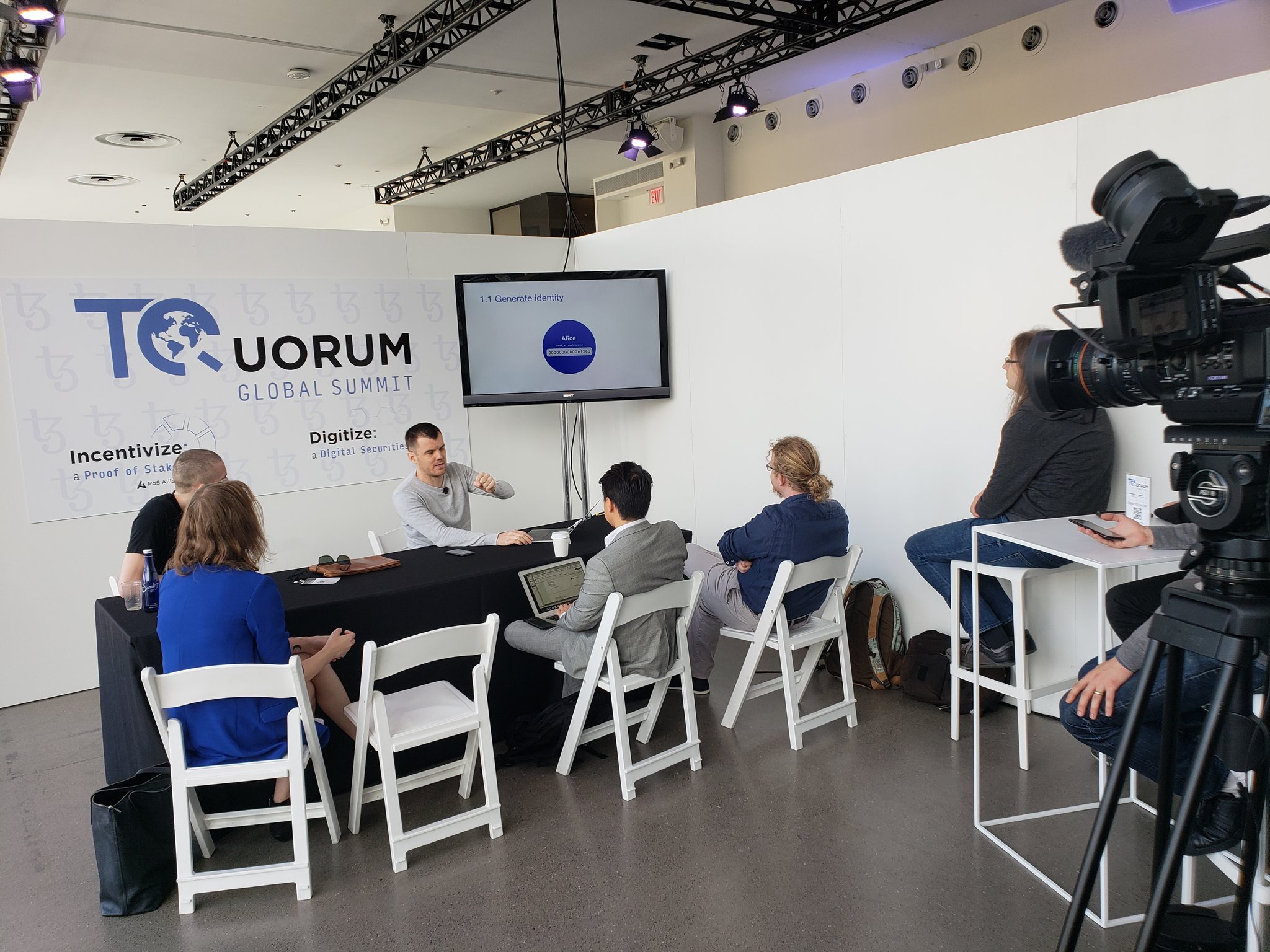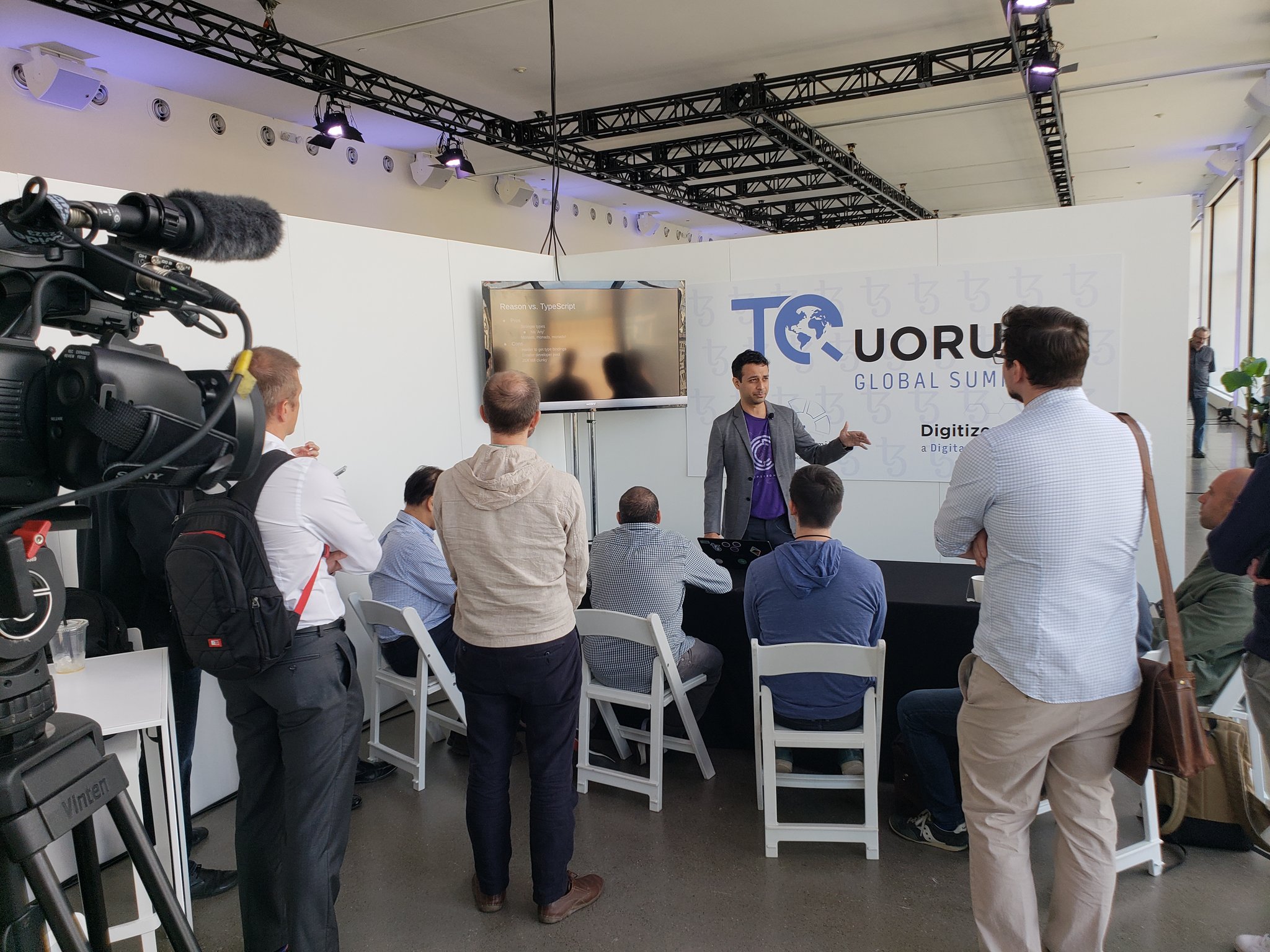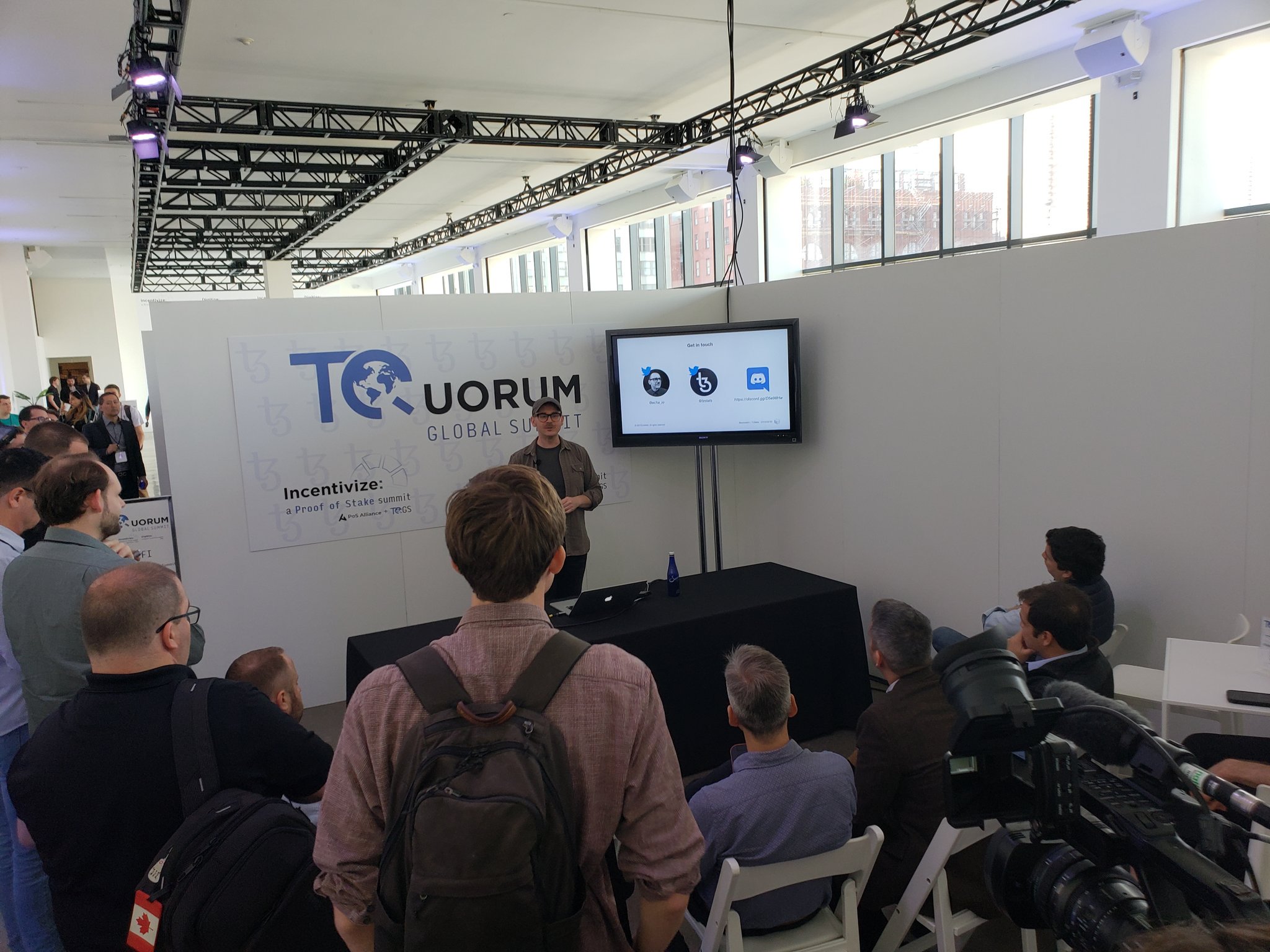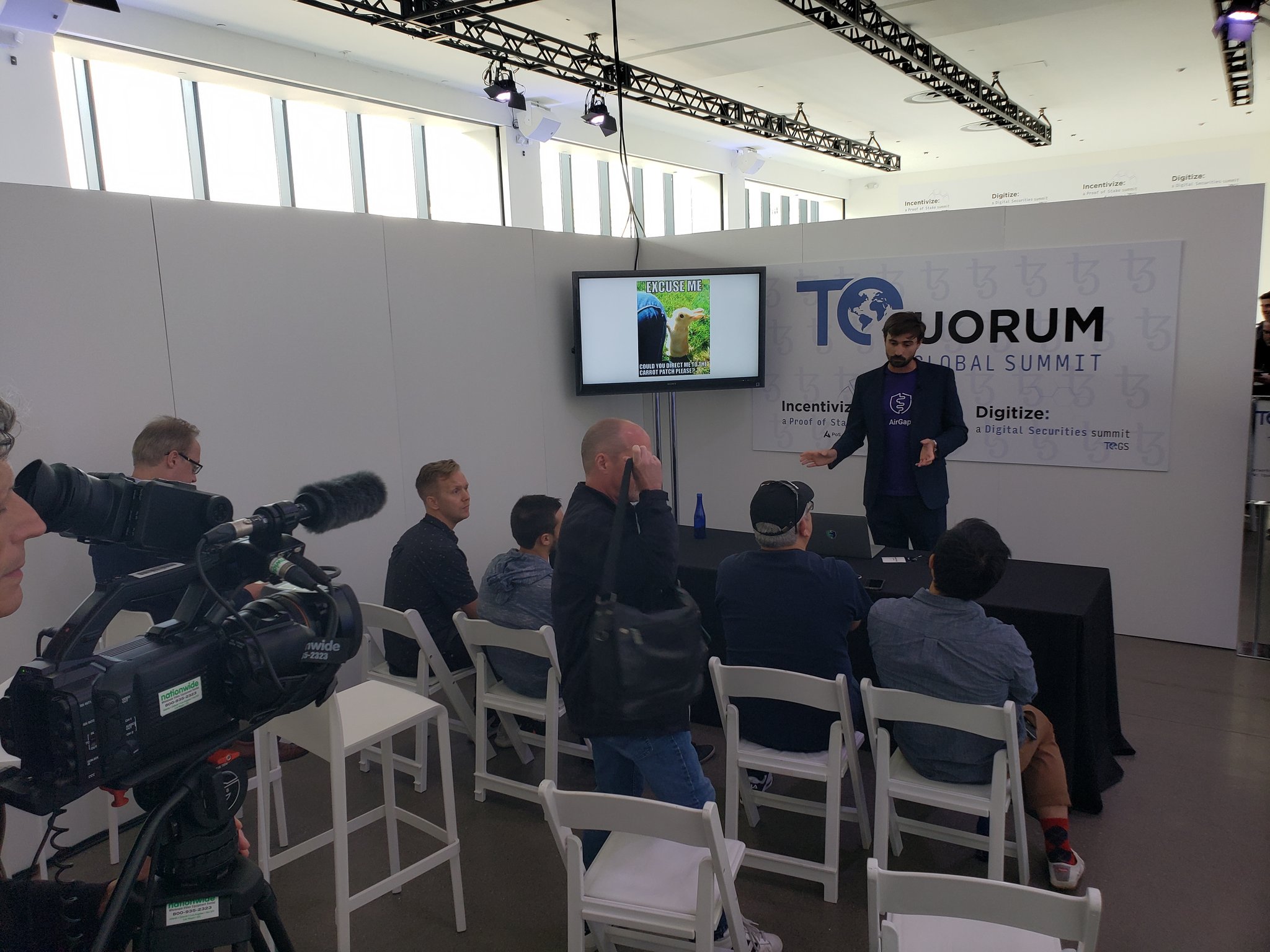 Lunch
After round one of the technical workshops concluded it was off to an amazing spread for lunch (of course they had tacos!)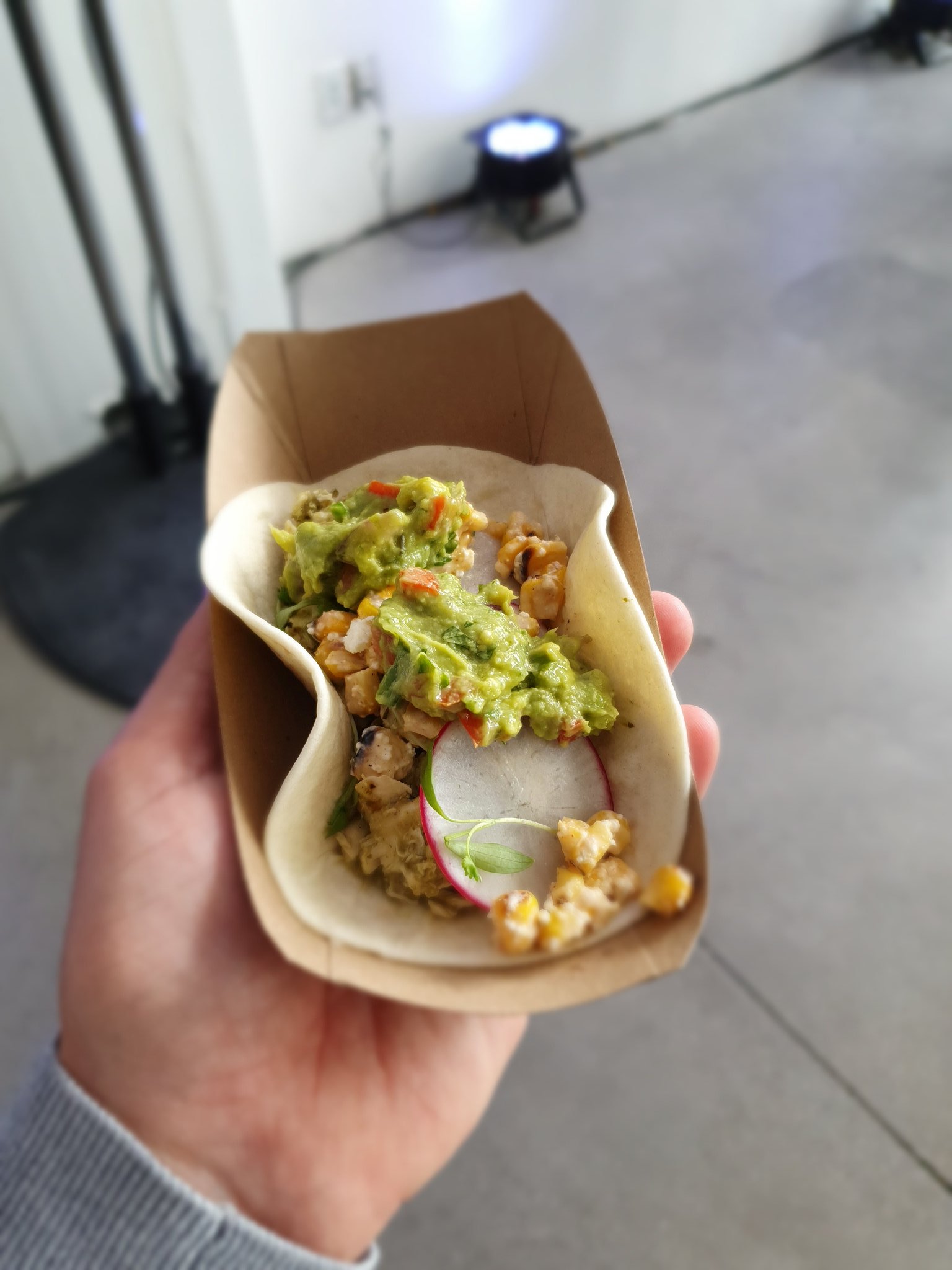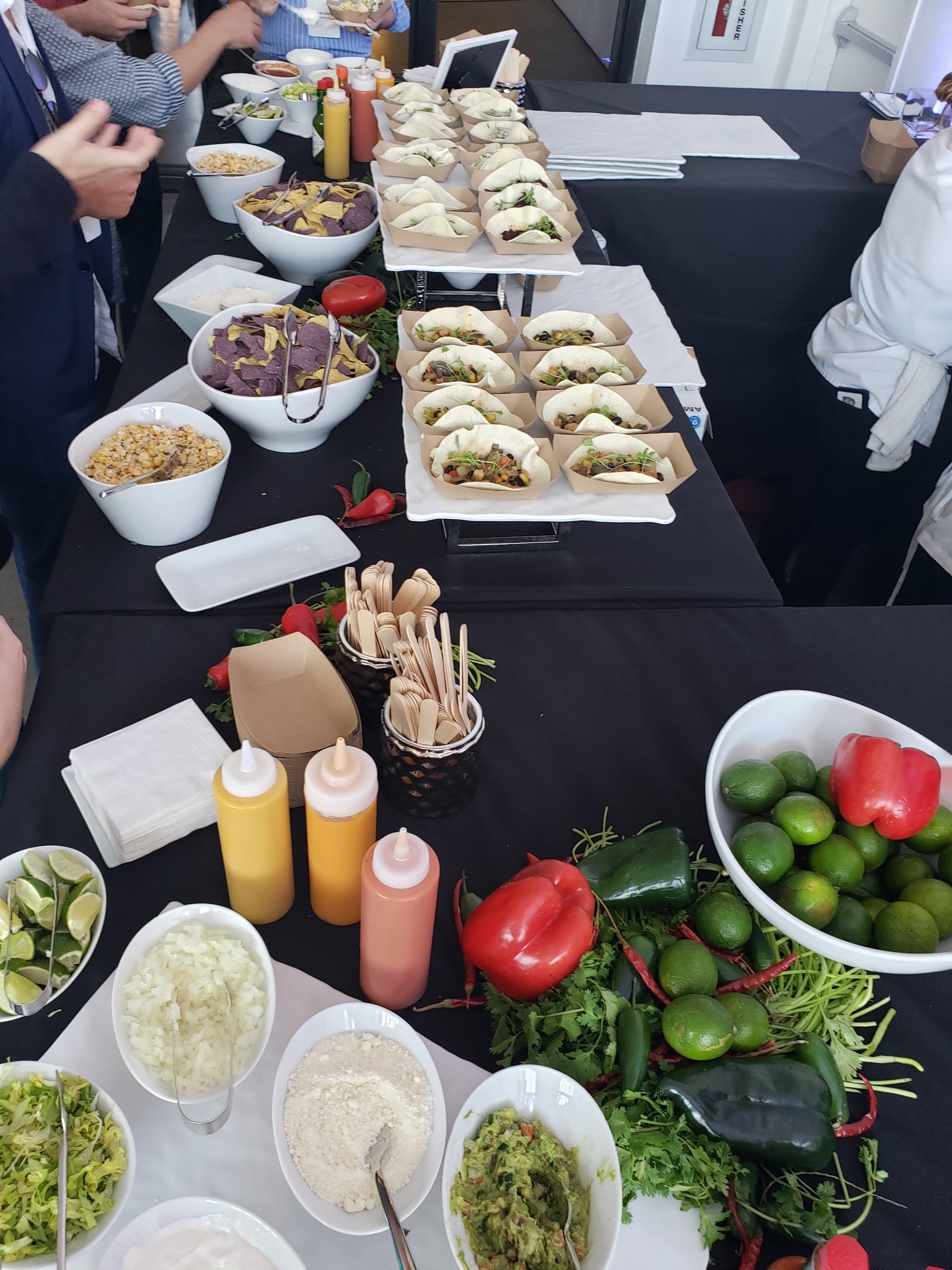 Technical Workshops Round 2
After lunch we had more technical workshops featuring:
– Istvan Deak, Stove Labs
– Chris Goes, Cryptium Labs & Tendermint/Cosmos
– Bernd Oostrum, Tezsure
– Matej Sima, Stove Labs
The one I found most interesting of the group was the NFT presentation by Stove Labs.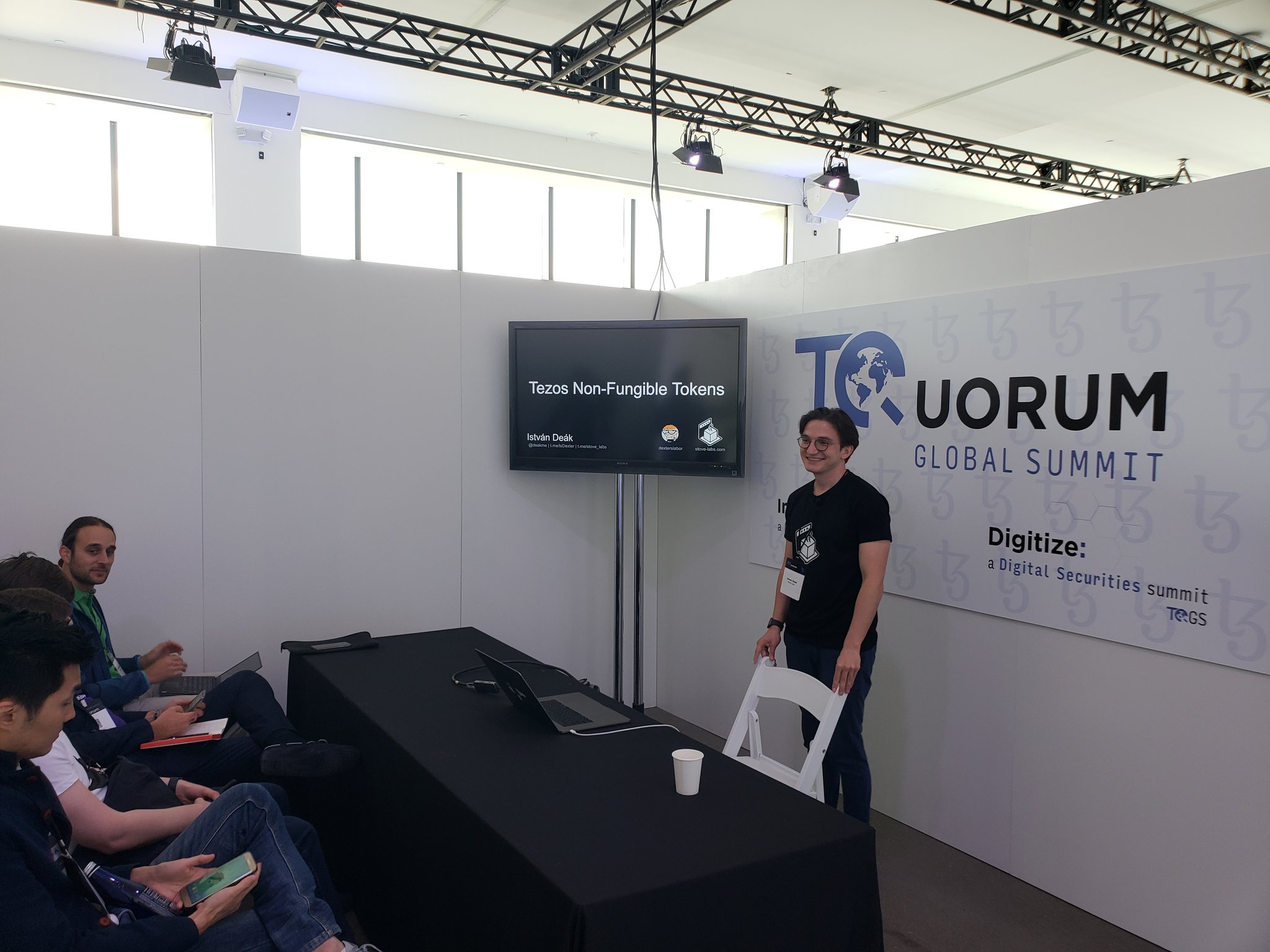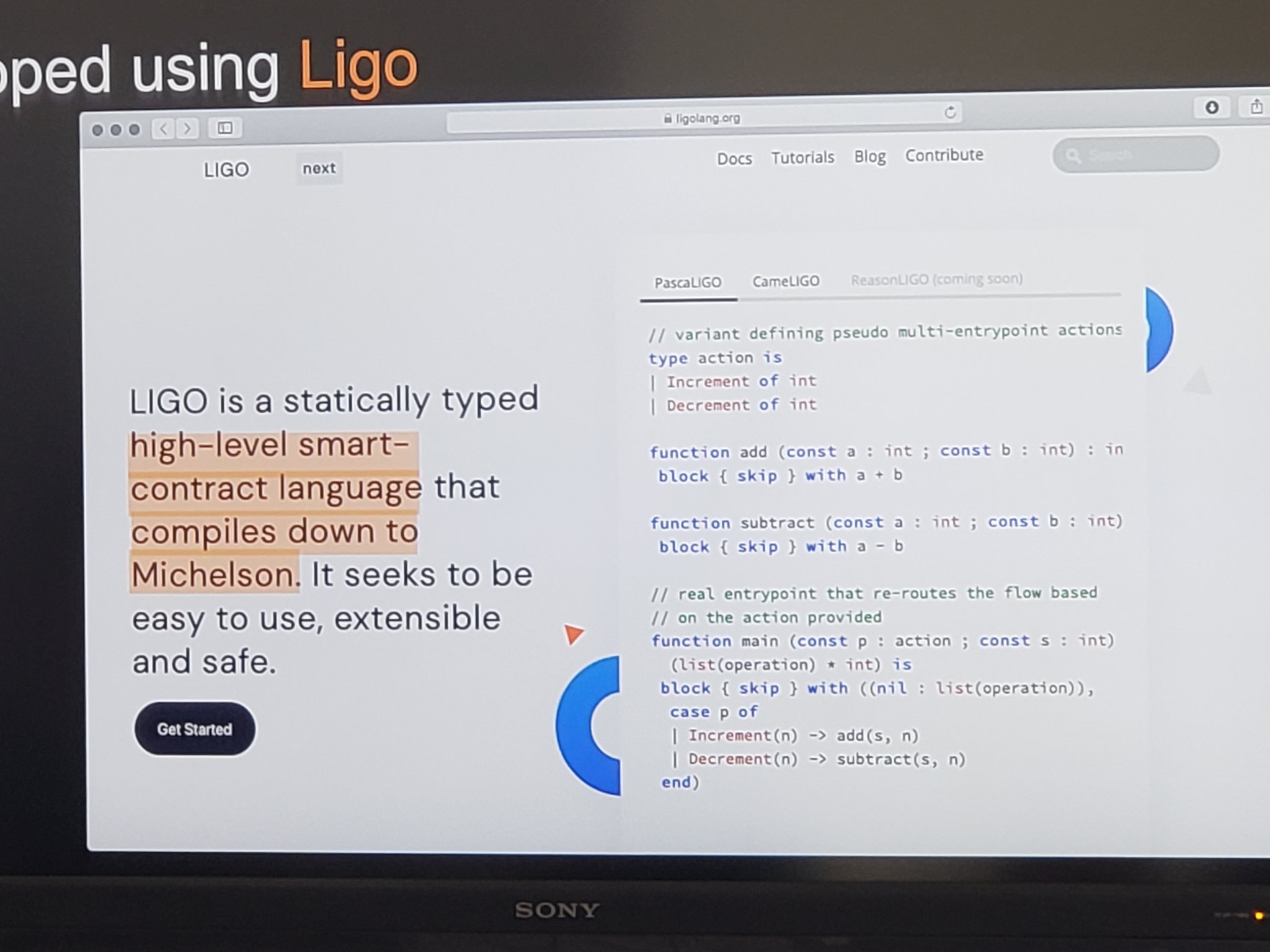 Panel Talks
To finish the main stage talks for Day 1 we saw a panel format. the first panel was:
EXPLORING THE LEGAL AND REGULATORY IMPLICATIONS OF INTERACTING WITH PROOF OF STAKE NETWORKS
Moderated by Katherine Wu, this panel focuses on the current regulatory landscape and some of the most pressing legal questions facing the blockchain industry, including the unique challenges presented by proof of stake networks.
Featuring:
– Lewis Cohen, DLX Law
– Lorien Gabel, Figment Networks
– Josh Garcia, Blakemore Fallon
– Karen Ubell, Cooley LLP
– Moderated by: Katherine Wu, Notation Capital
"We should be talking about this as a new technology not as an investment opportunity for those that may participate." – Karen Ubell
"Risk of loss is a relevant factor for the Howey Test." – Karen Ubell
"You may be disincentivizing bad behavior but you may be impacting security regulations." – Josh Garcia
As a US based lawyer, "Regulation S provides a safe harbor when your dealing with securities law but there are other laws such as money movement that may present challenges." – Lewis Cohen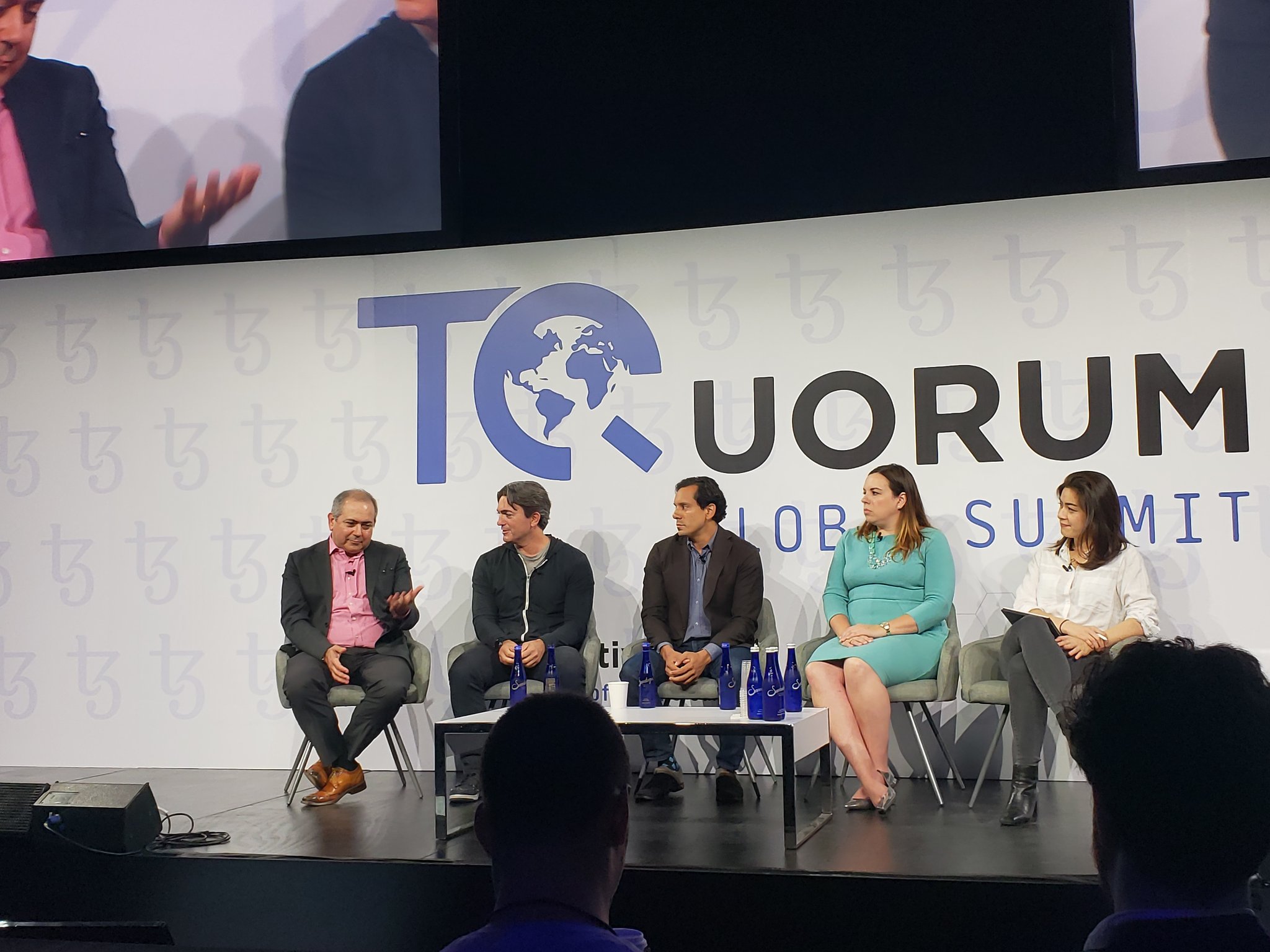 The next Panel talk featured:
GOVERNANCE & USER PARTICIPATION
This panel discussion will dive into blockchain governance and take a closer look at how proof of stake networks incentivize user participation.
Featuring:
– Jacob Arluck, TQ Tezos
– Adrian Brink, Cryptium Labs
– Emin Gun Sirer, Ava Labs
– Lane Rettig, Spacemesh
– Moderated by: Brady Dale, CoinDesk
"The biggest case of a governance failure is #Bitcoin itself." – Emin Gun Sirer, Ava Labs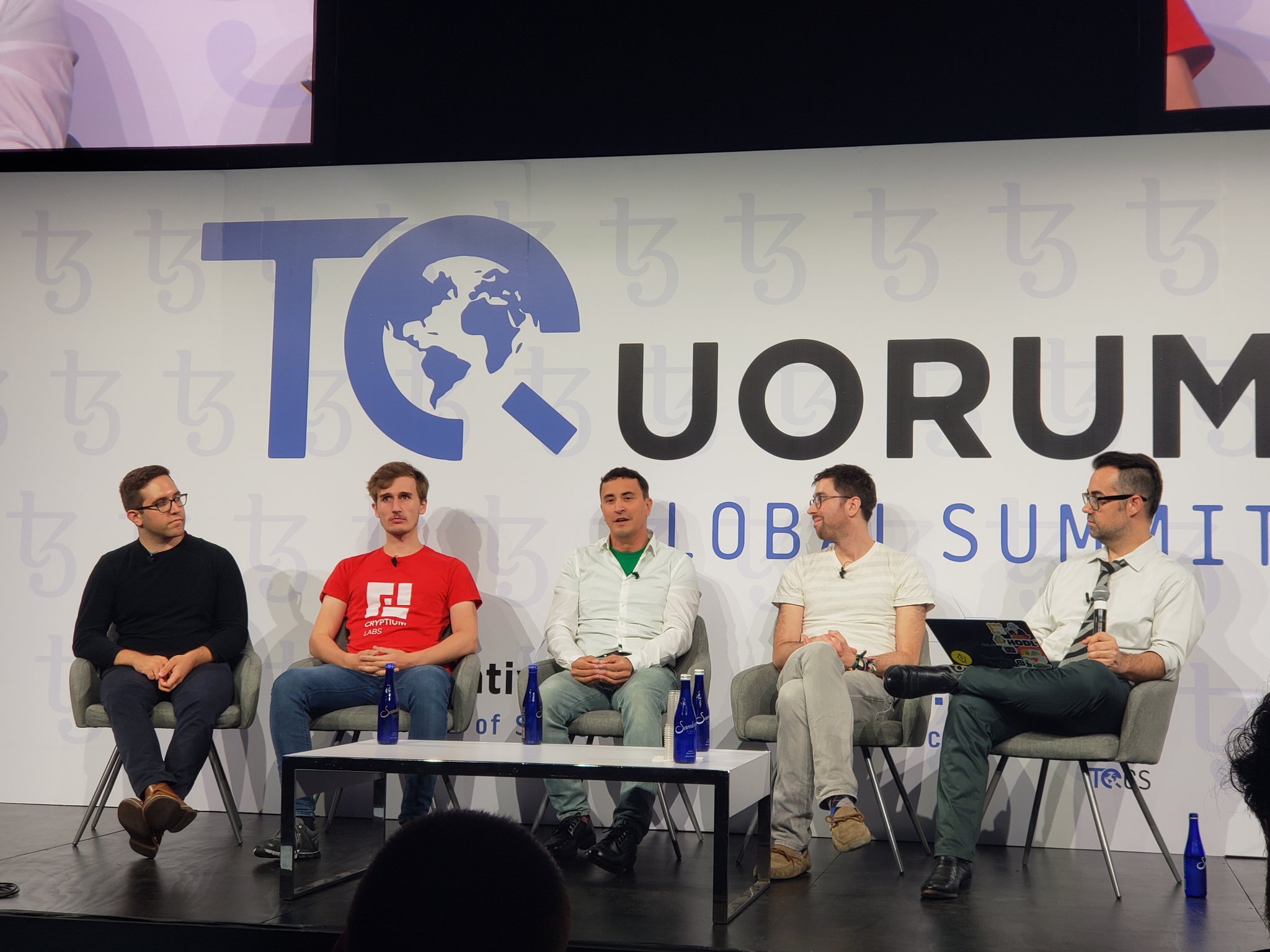 And the final panel talk for the day featured:
HOW TO STAKE SAFELY
Proof of stake protocols incentivize individuals and organizations with large quantities of tokens to store them and engage with their networks in unique ways. This panel of staking and custodial specialists discusses institutional-grade best practices for storing and securing tokens.
Featuring:
– Aaron Henshaw, Bison Trails
– Brandon Kase, o(1) Labs
– Konstantin Richter, Blockdaemon
– Luke Youngblood, Blockscale
– Moderated by: Mike Reinhart, Obsidian Systems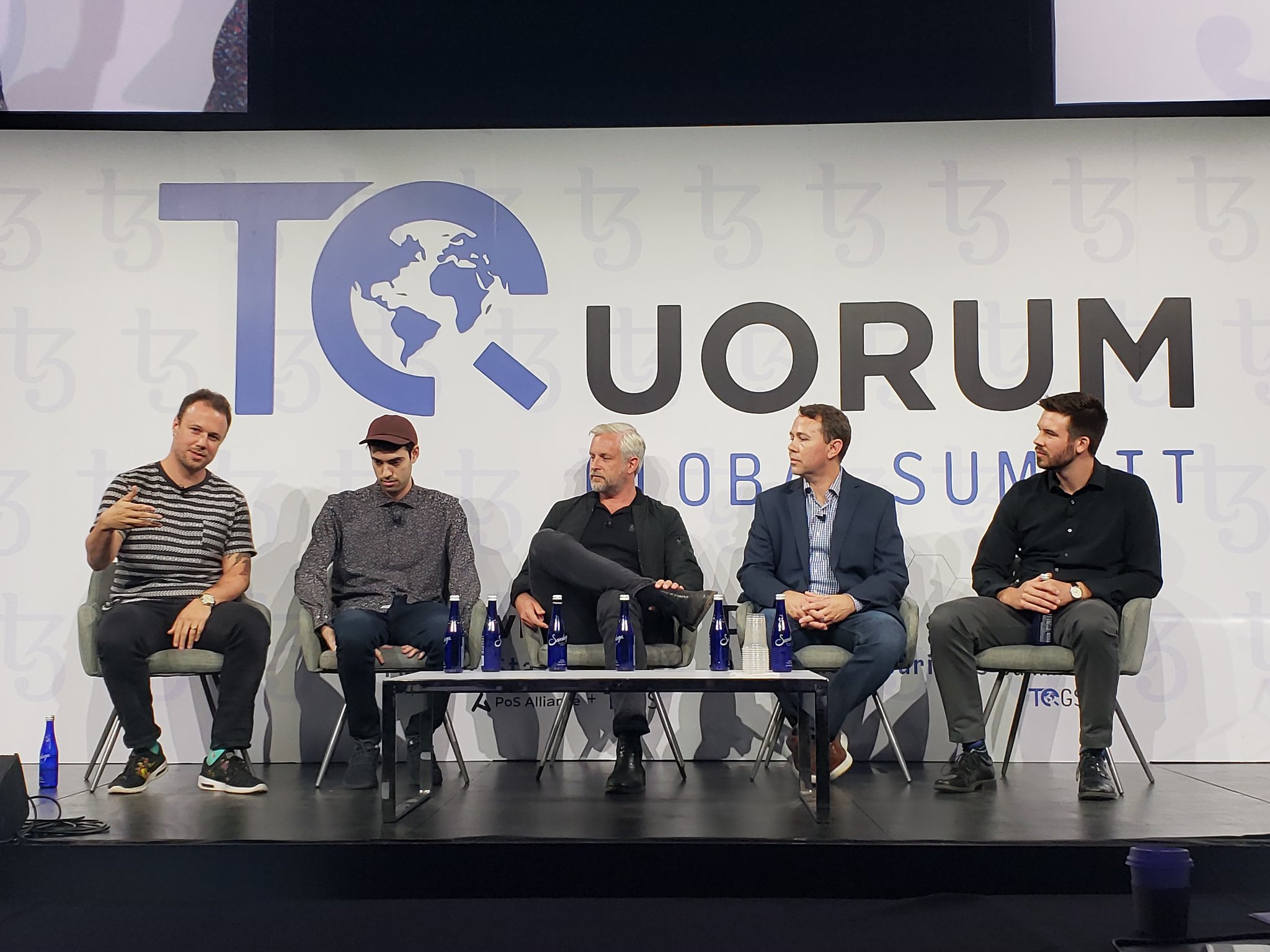 At this point my mind was fully packed with all things Tezos – the conference adjourned for day two.
The remaining posts and text are not first hand accounts as I had to leave the summit to tend to other business matters at this juncture.
CryptoMondays After Party
CRYPTOMONDAYS AFTER PARTY FEATURING ARTHUR BREITMAN
Join Arthur Breitman with Lou Kerner from CryptoOracle for a Fireside Chat that includes a broad discussion of how the technology underlying Tezos is evolving and why having a monetary premium matters. They'll also delve in to Arthur's latest Tezos project, Checker, which aims to provide financial logic designed to help stabilize the value of a tokens with respect to an externally provided index.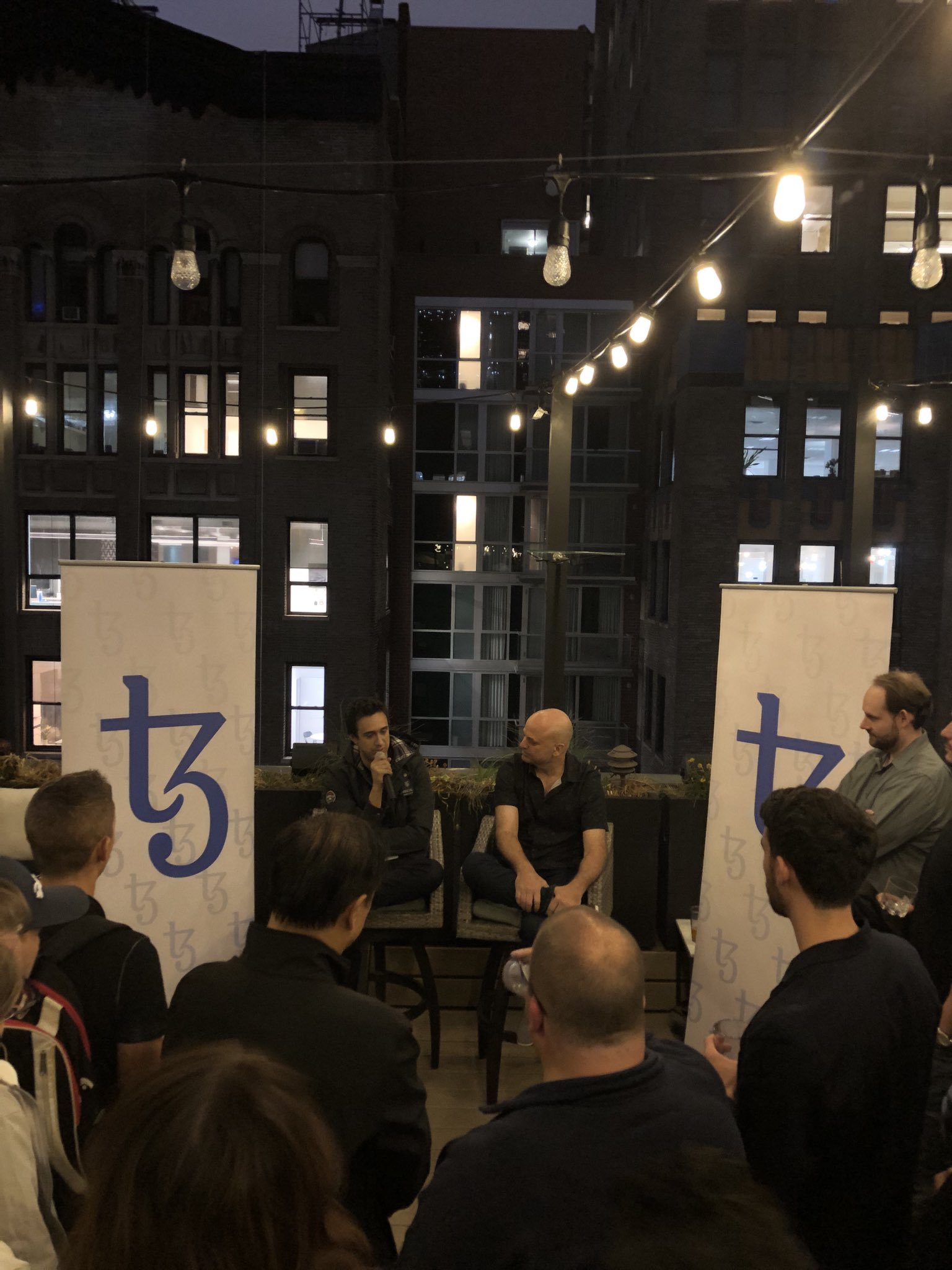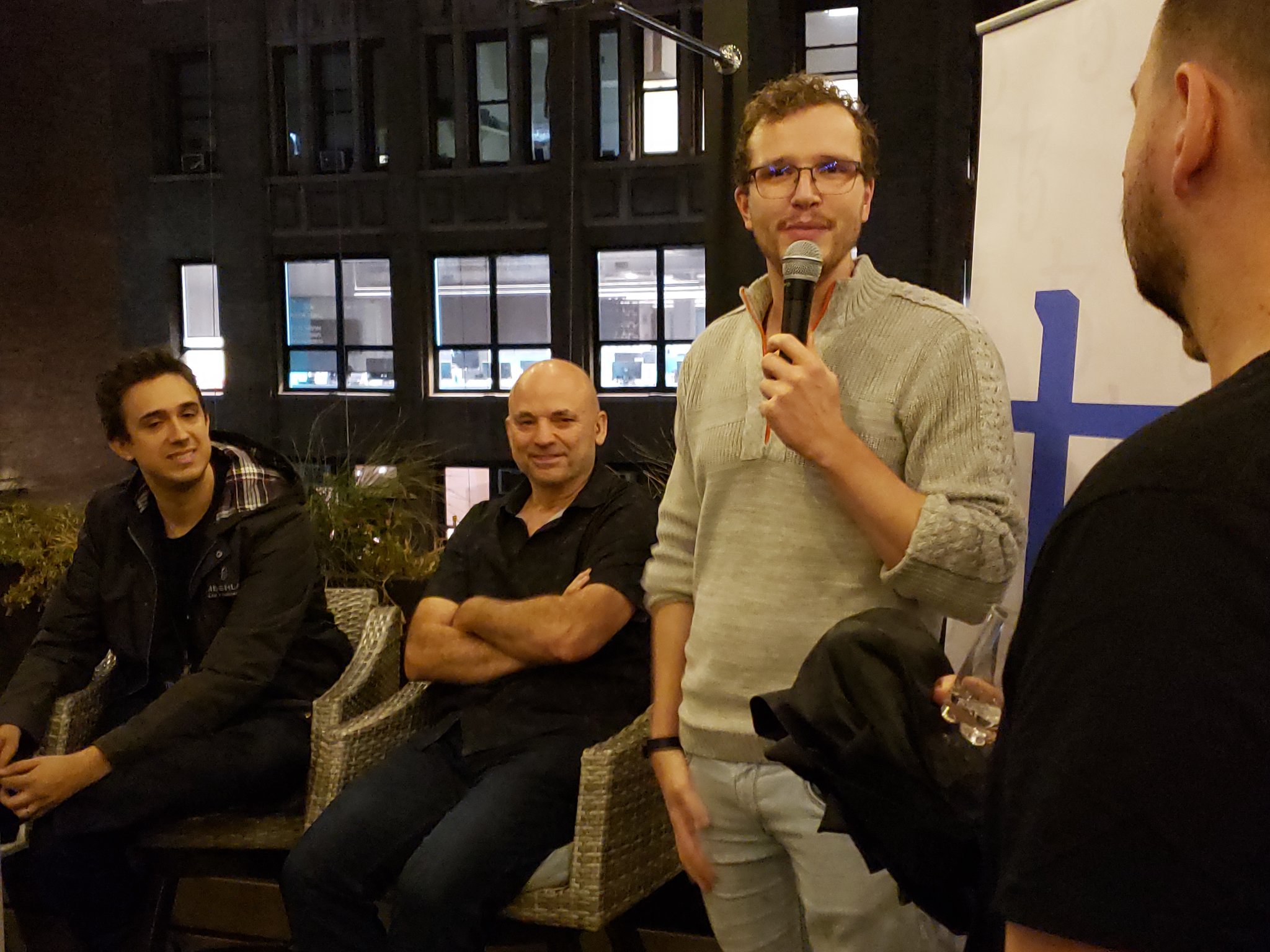 TQuorum Tezos Global Summit Day 3
LIGO Lang Announcement
THE FUTURE OF PRIVACY
This panel of specialists explores the benefits and challenges of integrating cutting edge privacy techniques, like ZCash Sapling and zero-knowledge proofs, into the Tezos protocol.
Featuring:
– Christopher Goes, Cryptium Labs
– Izaak Meckler, o(1) Labs
– Ian Miers
– Marco Stronati, Nomadic Labs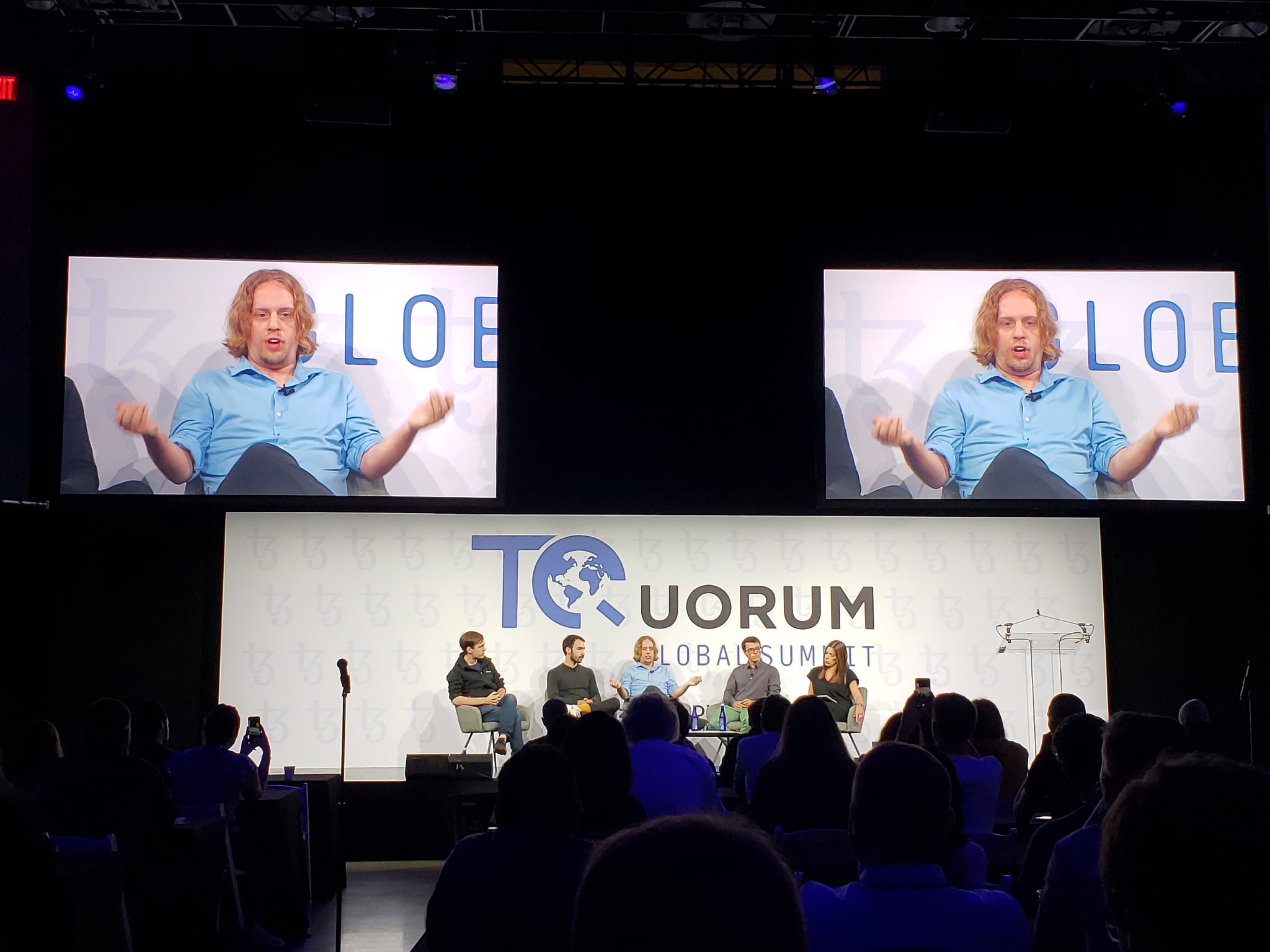 WHAT CAN TEZOS LEARN FROM BITCOIN?
A discussion on technical and non-technical lessons from Bitcoin. What are people missing about Bitcoin's success? What makes it so resilient?
Featuring:
– Nic Carter, Castle Island Ventures
– Tarun Chitra, Gauntlet Network
– Lily Liu, Investor
– Moderated by: Joyce Yang, Global Coin Ventures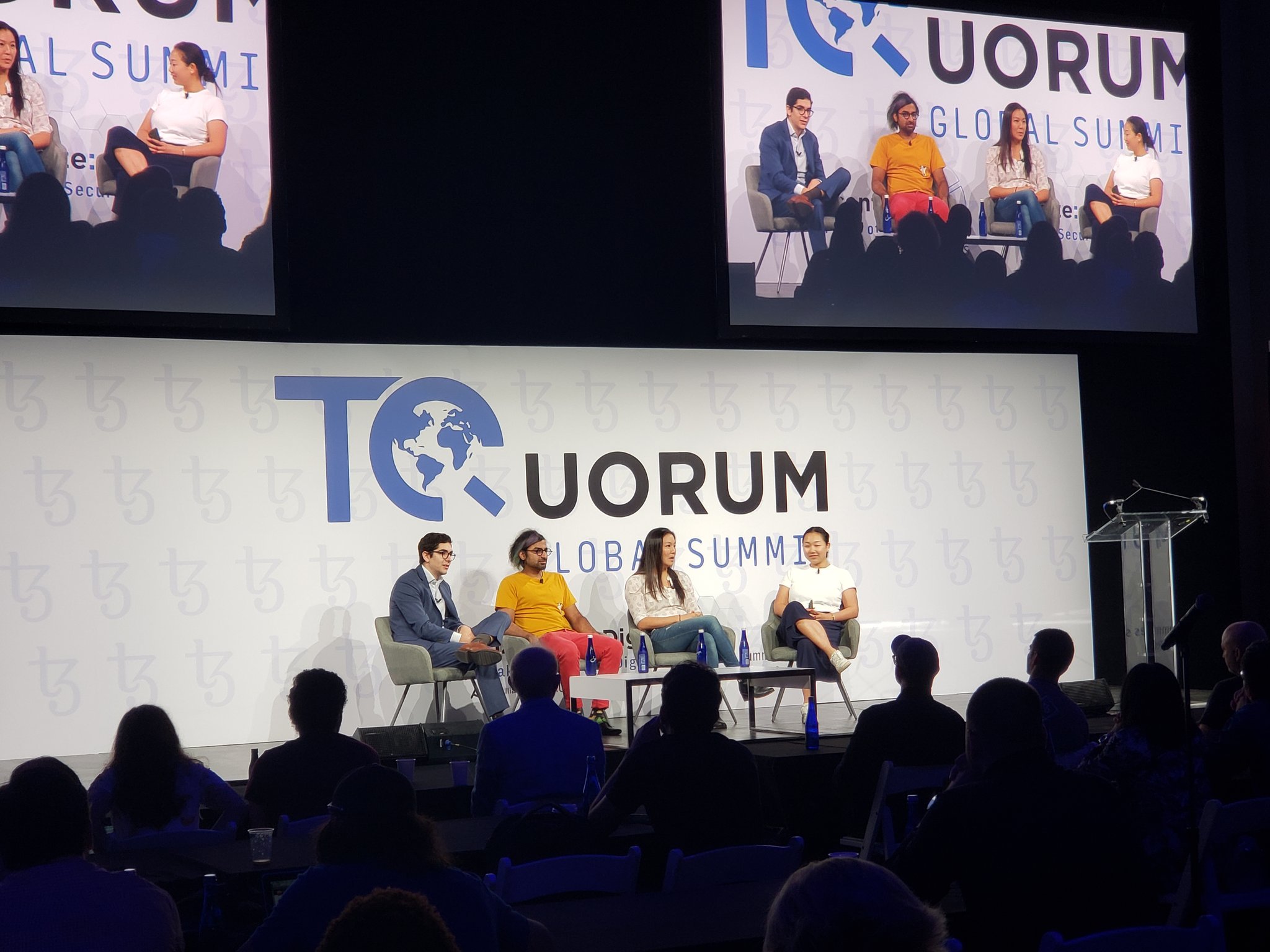 Technical Workshops
TECHNICAL DEMOS
Join us in the demo room for a series of technical workshops from Tezos projects.
Featuring:
– Marc Beaunardeau, Nomadic Labs
– Adrian Brink, Cryptium Labs
– Houman Shadab & Jerome Simeon, Clause
– Nate Maddrey, Coin Metrics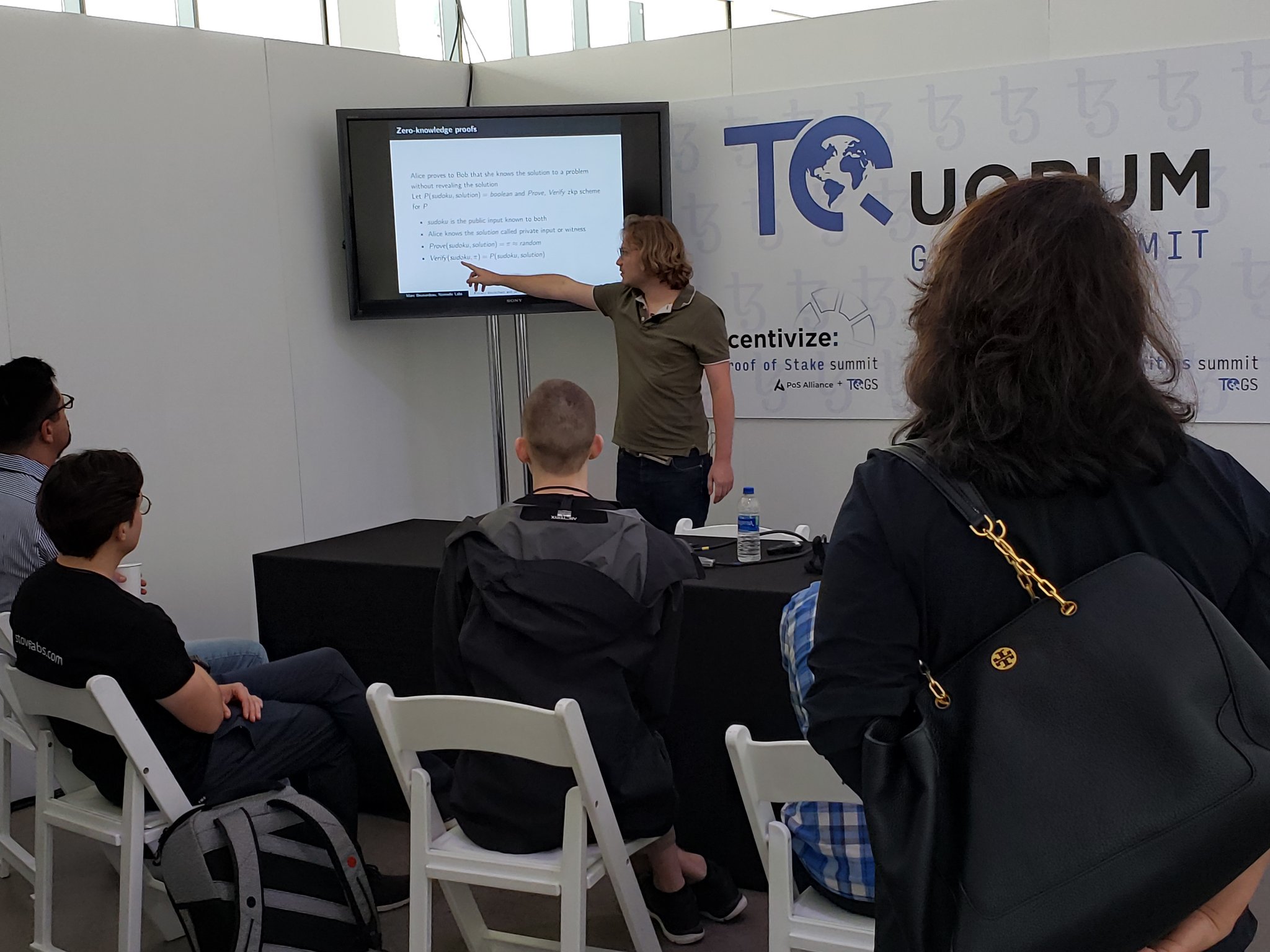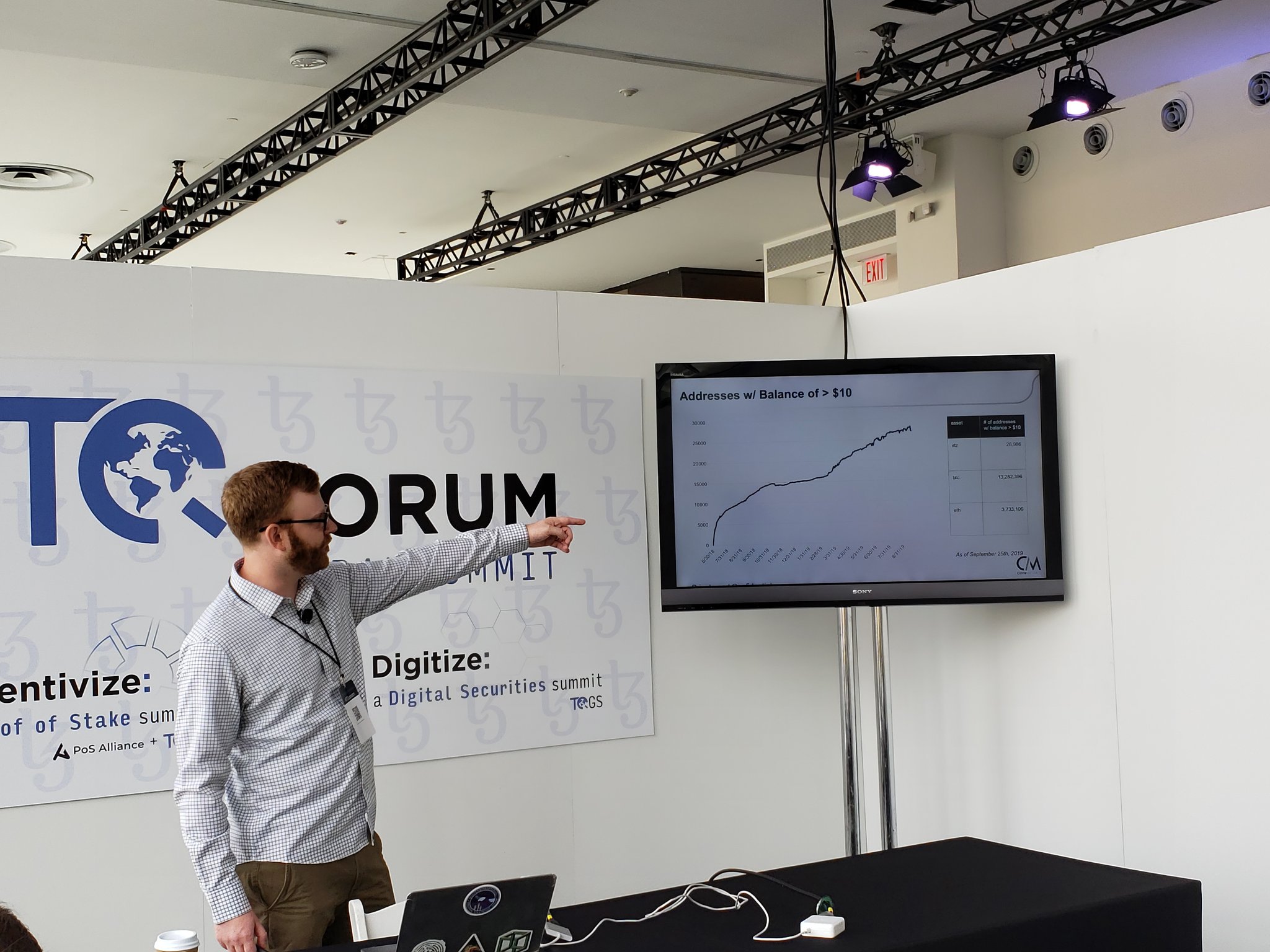 TECHNICAL DEMOS
Join us in the demo room for a series of technical workshops from Tezos projects.
Featuring:
– Feder Fedorov, Serokell
– Michael Klein, TQ Tezos
– Izaak Meckler & Brandon Kase, O(1) Labs
– Roland Zumkeller, SmartPy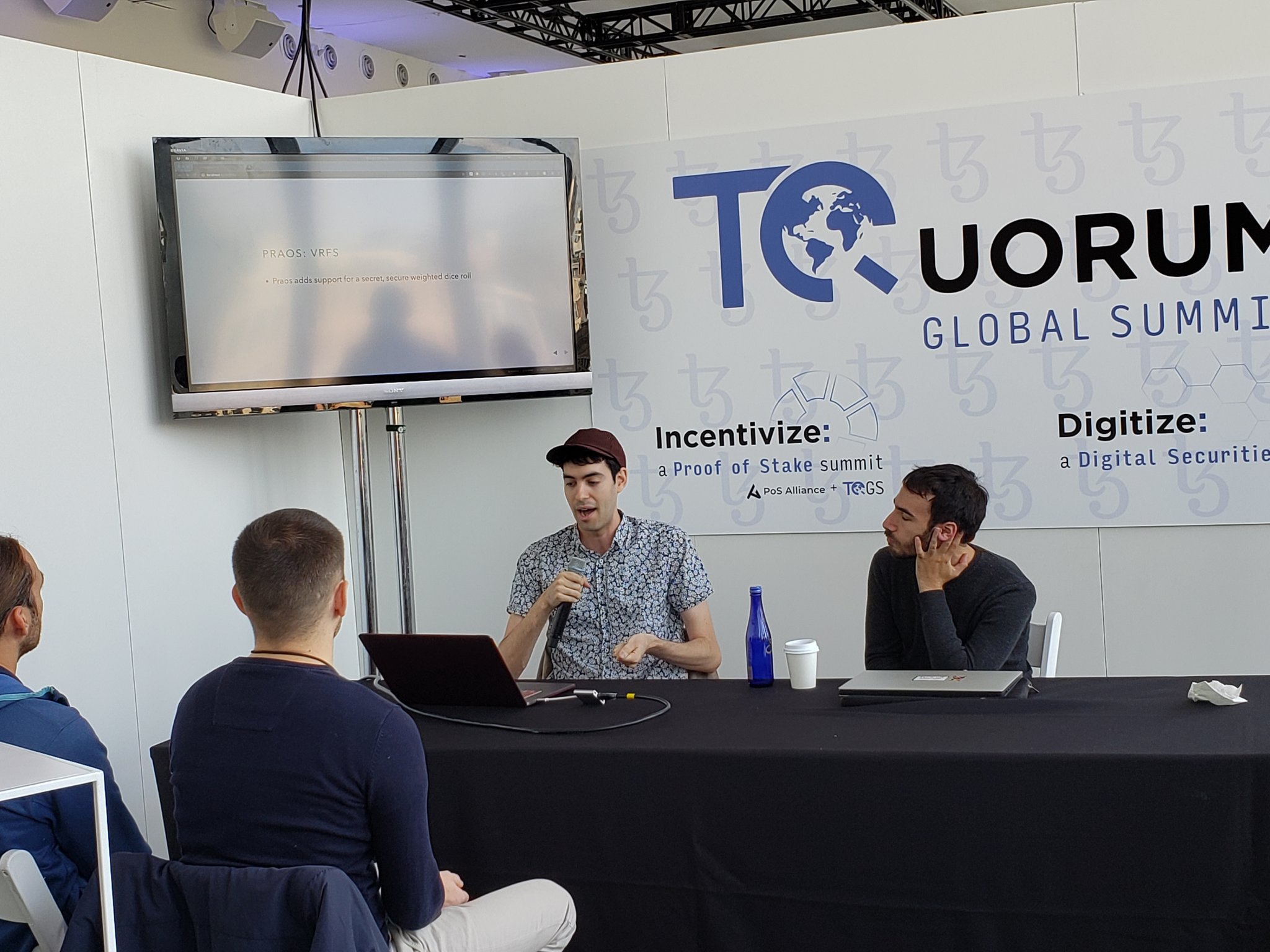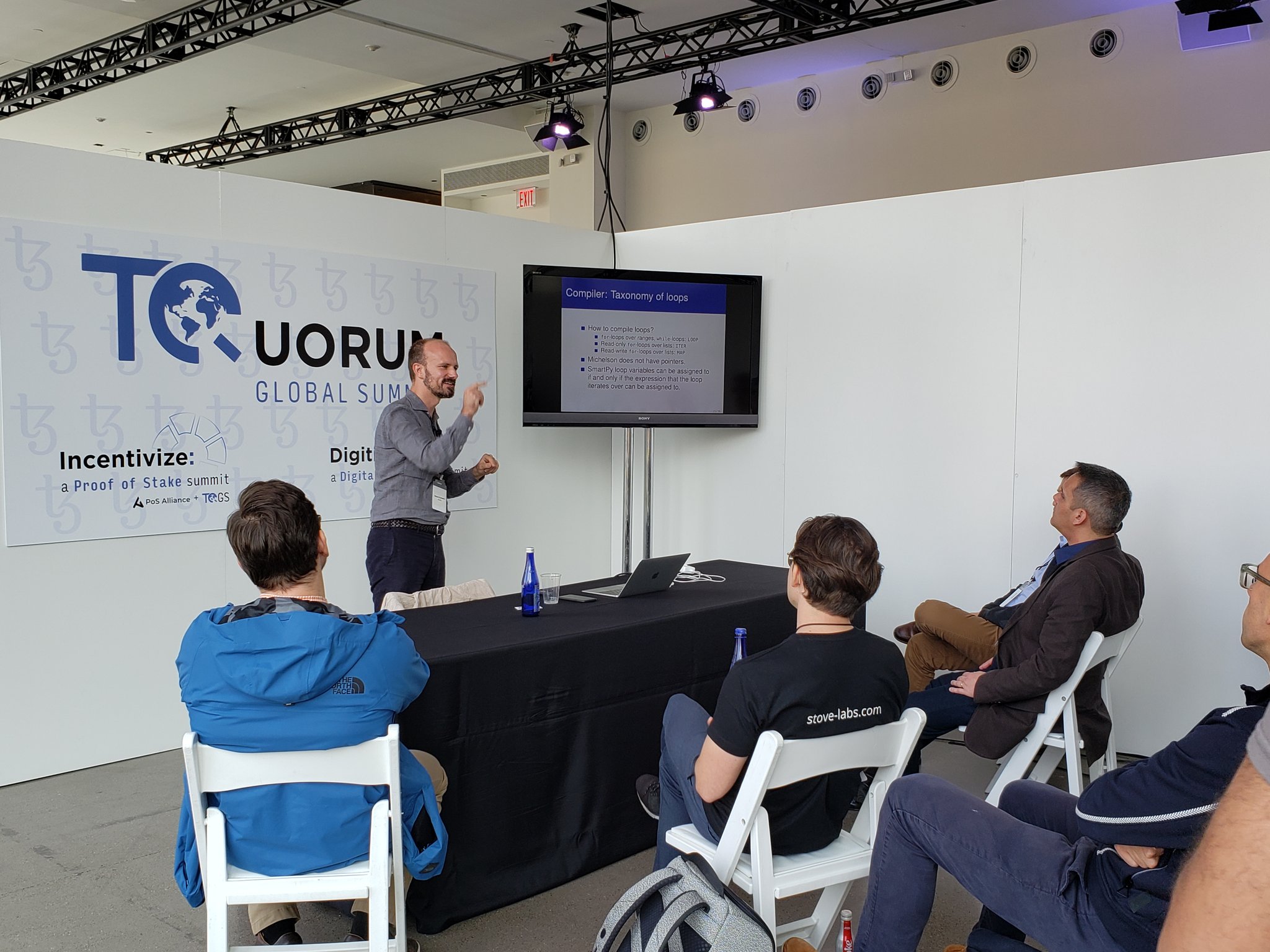 Panel Talks
ENABLING OPPORTUNITY – HOW BLOCKCHAIN-BASED MARKETS CAN CHANGE INVESTING
Digital assets are becoming more sophisticated, and blockchain-based markets are evolving. Explore the factors that are positioning these new markets to change the world of traditional investing.
Featuring:
– Nisa Amoils, Grasshopper Capital
– Stephane De Baets, Elevated Returns
– Alexander Green, Globacap
– Evan Malanga, Securitize
– Dave Siemer, Wave Financial
– Moderated by: Chris Lawlor, TQ Tezos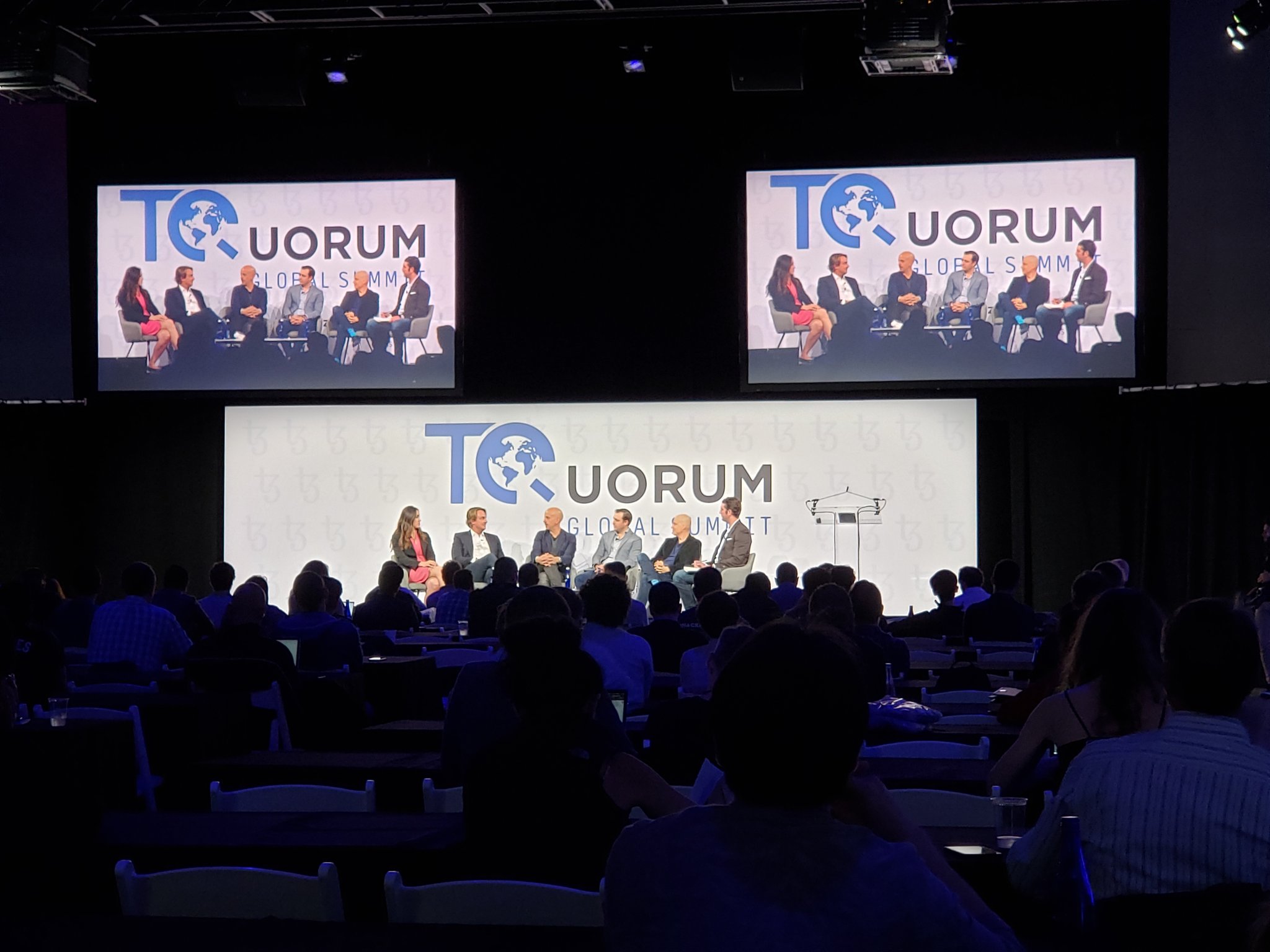 DIGITIZE: REWIRING CAPITAL MARKETS – STATE OF TECHNICAL INFRASTRUCTURE FOR DIGITAL SECURITIES
Digital securities, like security tokens or other digital assets, are sophisticated financial instruments that come with the challenges of traditional finance and the technology stack. Learn about the current state of the technical infrastructure for digital securities and what the ecosystem needs to continue growing.
Featuring:
– G. Daniel Doney, Securrency
– Bilal El Alamy, Equisafe
– Ryan Lackey, Tezos Foundation
– Dave Hendricks, Vertalo
– Moderated by: Christine Kim, CoinDesk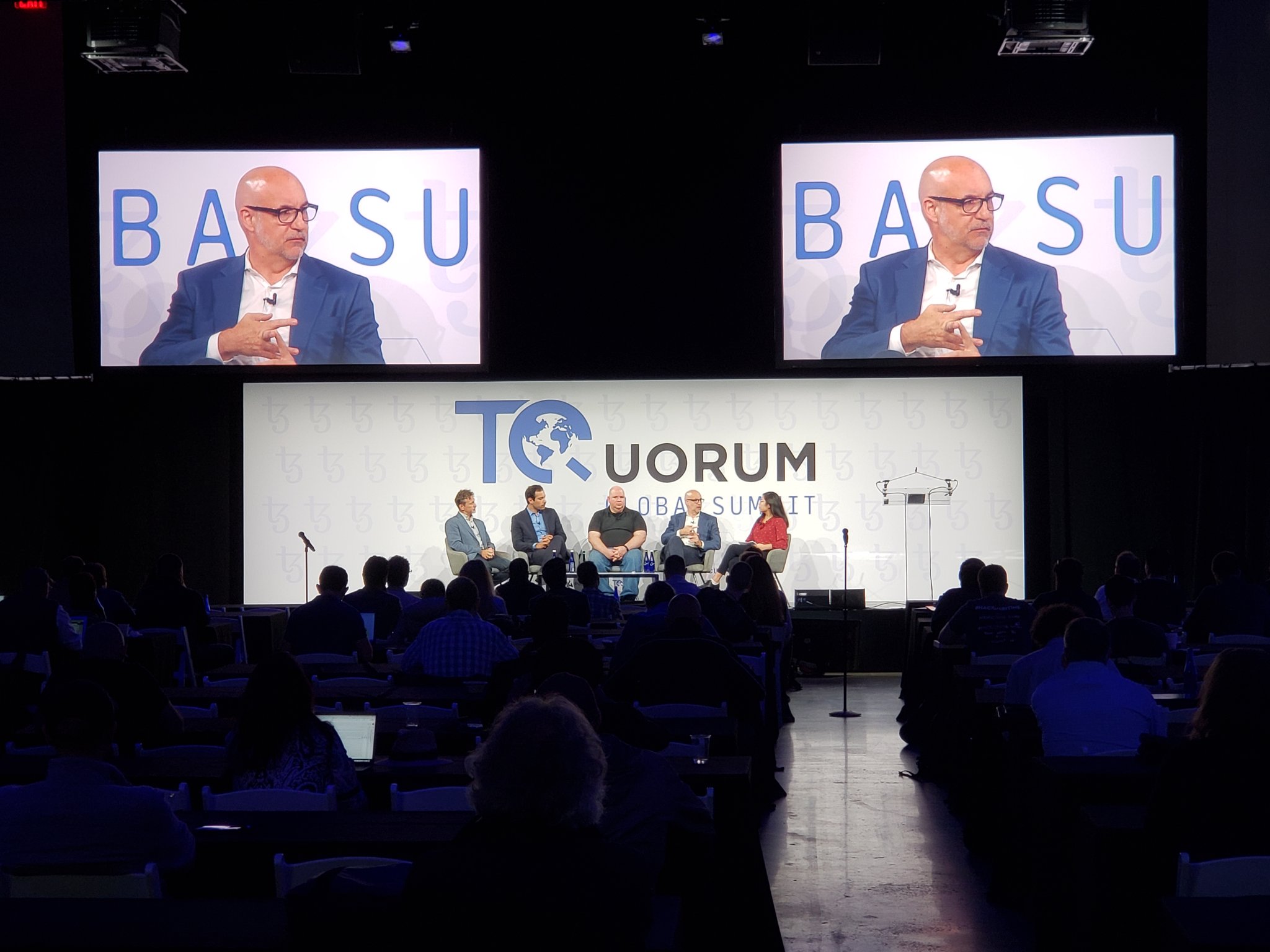 DIGITIZE: DEFI MEETS CEFI – INNOVATIVE FINANCIAL INSTRUMENTS
Blockchain-based digital assets have unlocked numerous opportunities in the world of finance, as evident by the growing decentralized finance movement. Learn what these new, innovative financial instruments are and how they're shaking up the world of traditional finance.
Featuring:
– Andrew Beal, Ernst & Young LLP
– Kristin Boggiano, AlphaPoint
– Mason Borda, TokenSoft
– Allison Lu, UMA
– Aaron Travis, Tokenvault
– Moderated by: David Morris, Fortune Magazine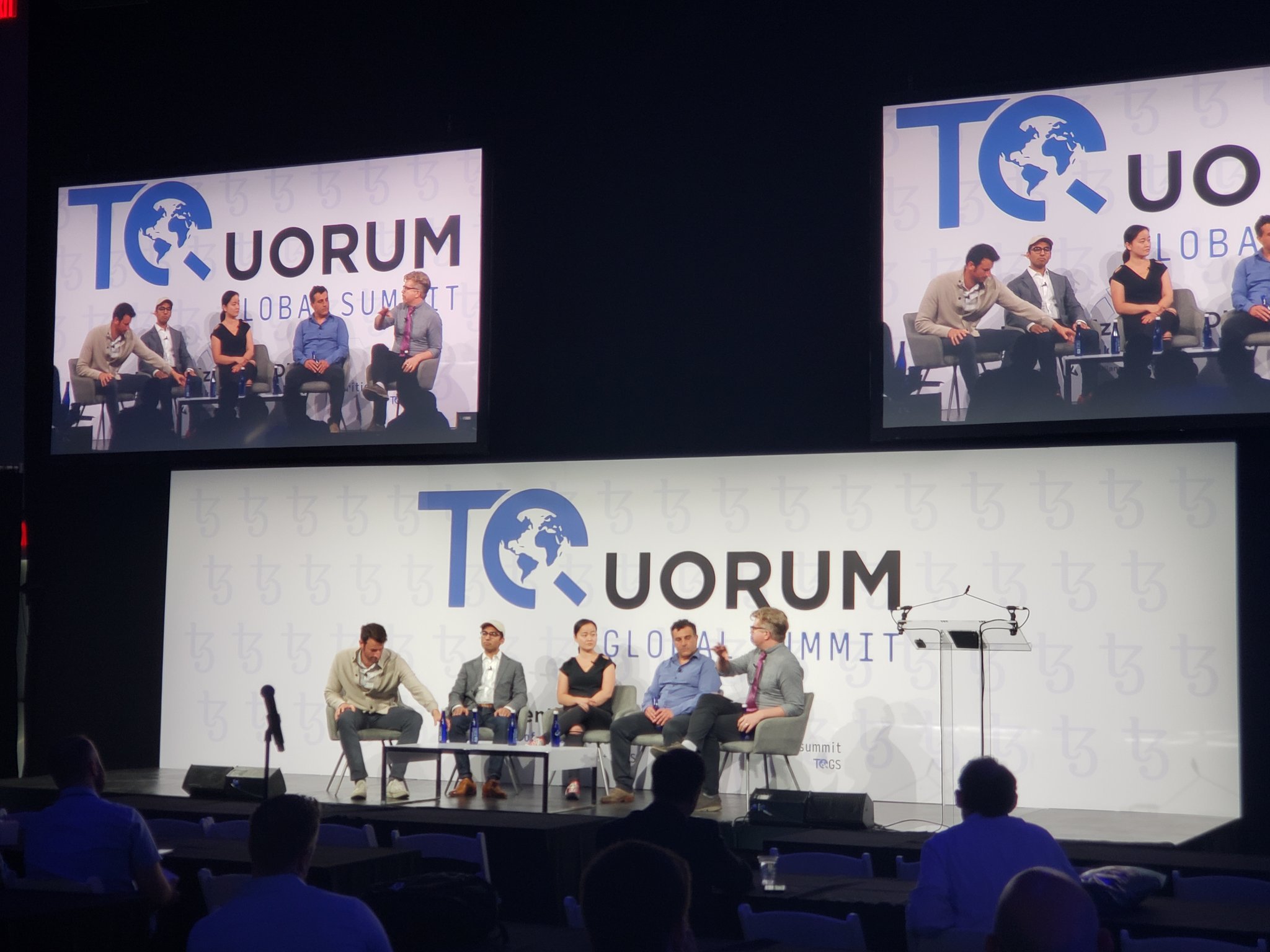 TQUORUM OFFICIAL AFTER PARTY @ CHEFS CLUB NYC
Join us to celebrate the closing of the inaugural TQuorum Global Summit at the Chef's Club NYC (275 Mulberry Street). Food & drinks will be available.
Currently happening at time of writing this so be sure to follow @TQTezos for more updates and pictures!
Conclusion
This event was very well organized and you could tell a lot of time and money had been put into it to capture the professional feel that a global summit should have. I would call this a success and can't wait to measure it against the ones to come in future years! There is a lot to get excited about in the Tezos ecosystem and ill leave it with a quote from Arthur Breitman that best explains the current state of affairs…
"The most interesting thing being built on Tezos is Tezos." – Arthur Breitman
Thank you for reading and keep building!