Tezos Foundation released the following statement on Betanet Expectations – This move coincides with a recent Tezos Zero-Net Reset which accounted for additional codes edits made in what was assumed to be a Betanet test. There have also been rumblings on reddit that the code audit is nearing completion as we near close to the promised delivery of Q2 – Which ends on Midnight June 30th.
The above article is further evidence launch is upon us.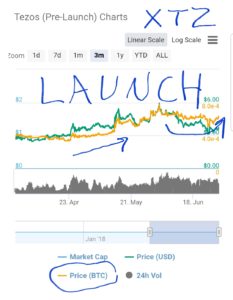 Pressure is forming in a cup/ handle shape between XTZ/BTC – Any positive news should break XTZ through all time highs of .000755 vs BTC. With Betanet Launch coming in a purposed 2 days, this could create huge market demand and desired exchange listing lure.
We are not financial advisors and you should do your own research before investing your money in anything. We do not have liability for any of your actions.