Find Ad Space for Purchase throughout the site – you will see a Hyperlink to "Add Advertising Here"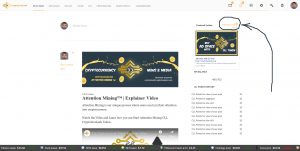 The below steps fully outline how to place advertisement throughout the www.cryptoliveleak.org website where ad space is available. We recommend that you create a user account and login before beginning this process.
You are only able to pay for the advertisement space with the CLL Token. More information on the CLL Token can be found here: https://etherscan.io/token/0x3dc9a42fa7afe57be03c58fd7f4411b1e466c508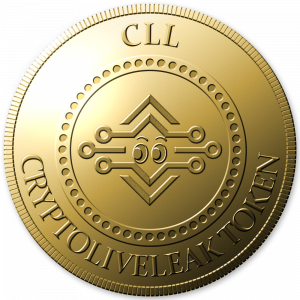 Step 1 –
Click into the
front end
order form
Any preexisting advertisement will have the "Add Advertising Here" hyperlink which can be clicked to enter into the advertising front end orde form.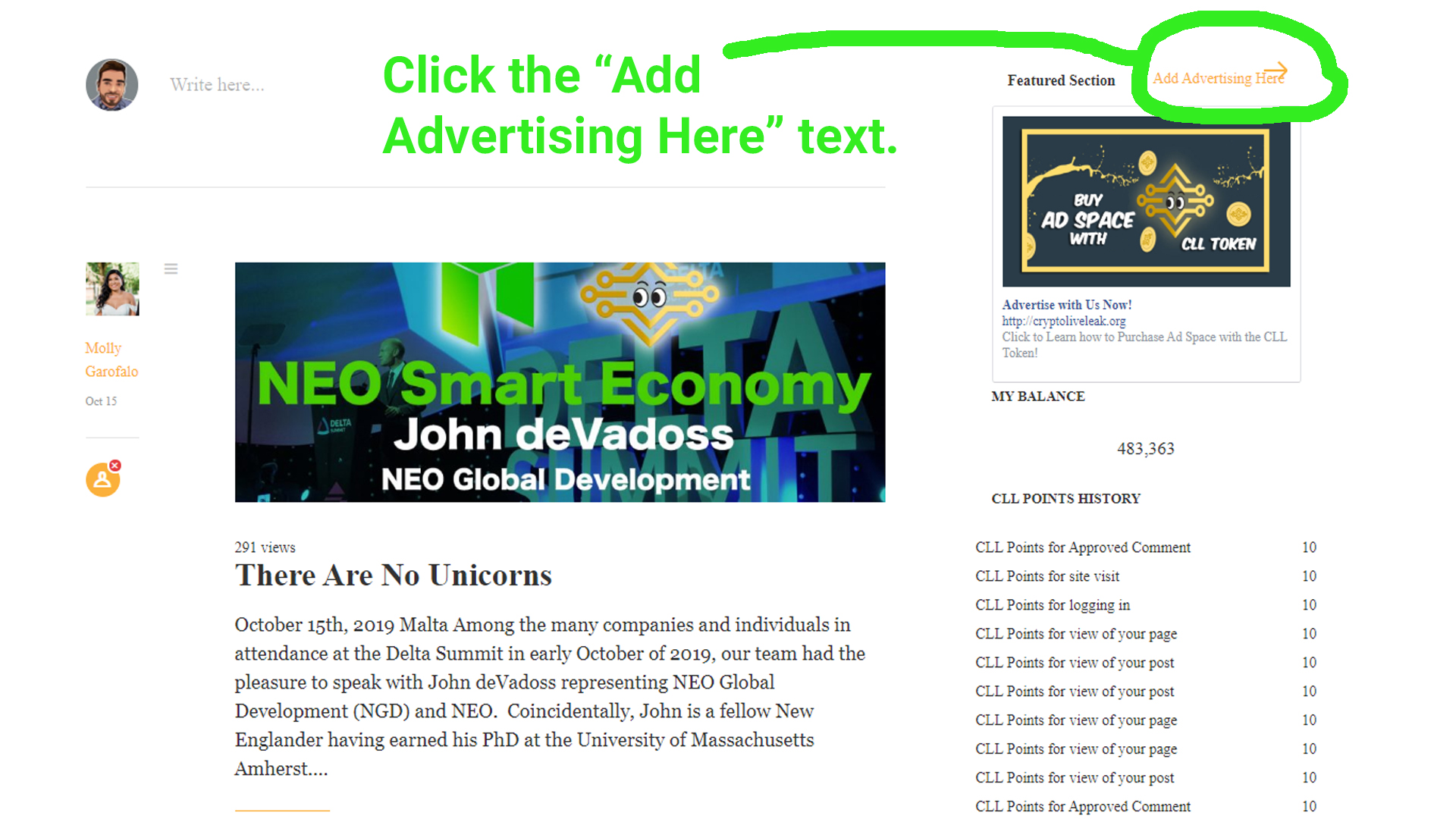 Step 2 –
Fill in your Advertisement information
You can select which ad space you want to be listed on, example would be Homepage Sidebar.
Enter your email address, directive URL (starting with https://), png, jpg, or gif (Make sure the size is correct)
Enter slogan for Ad under the "Additional Information"
Select your billing method, pay in CLL token – CPC, CPM, or CPD.
Click "Pay Now" once finished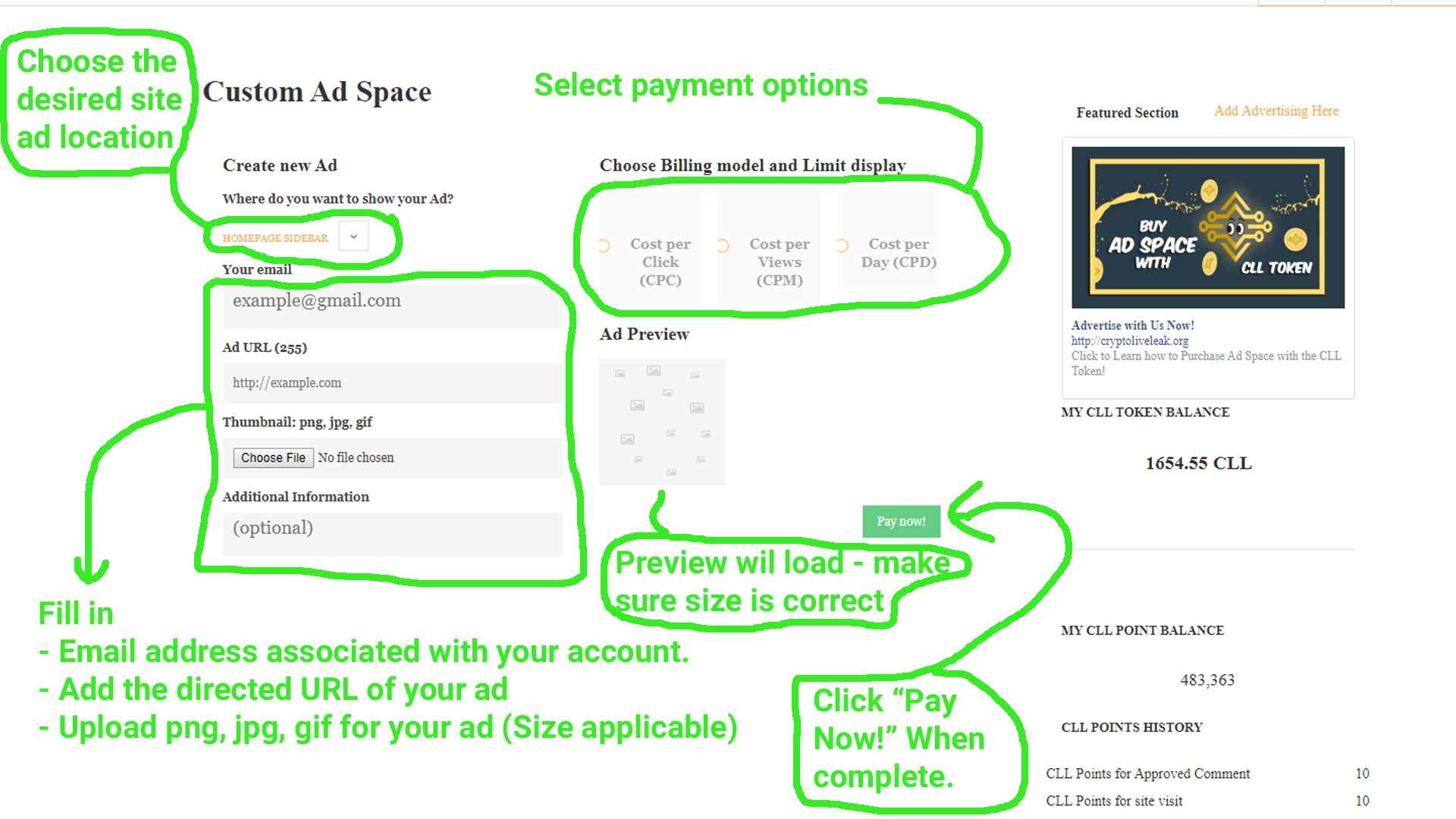 Step 3 –
Click "Add to cart"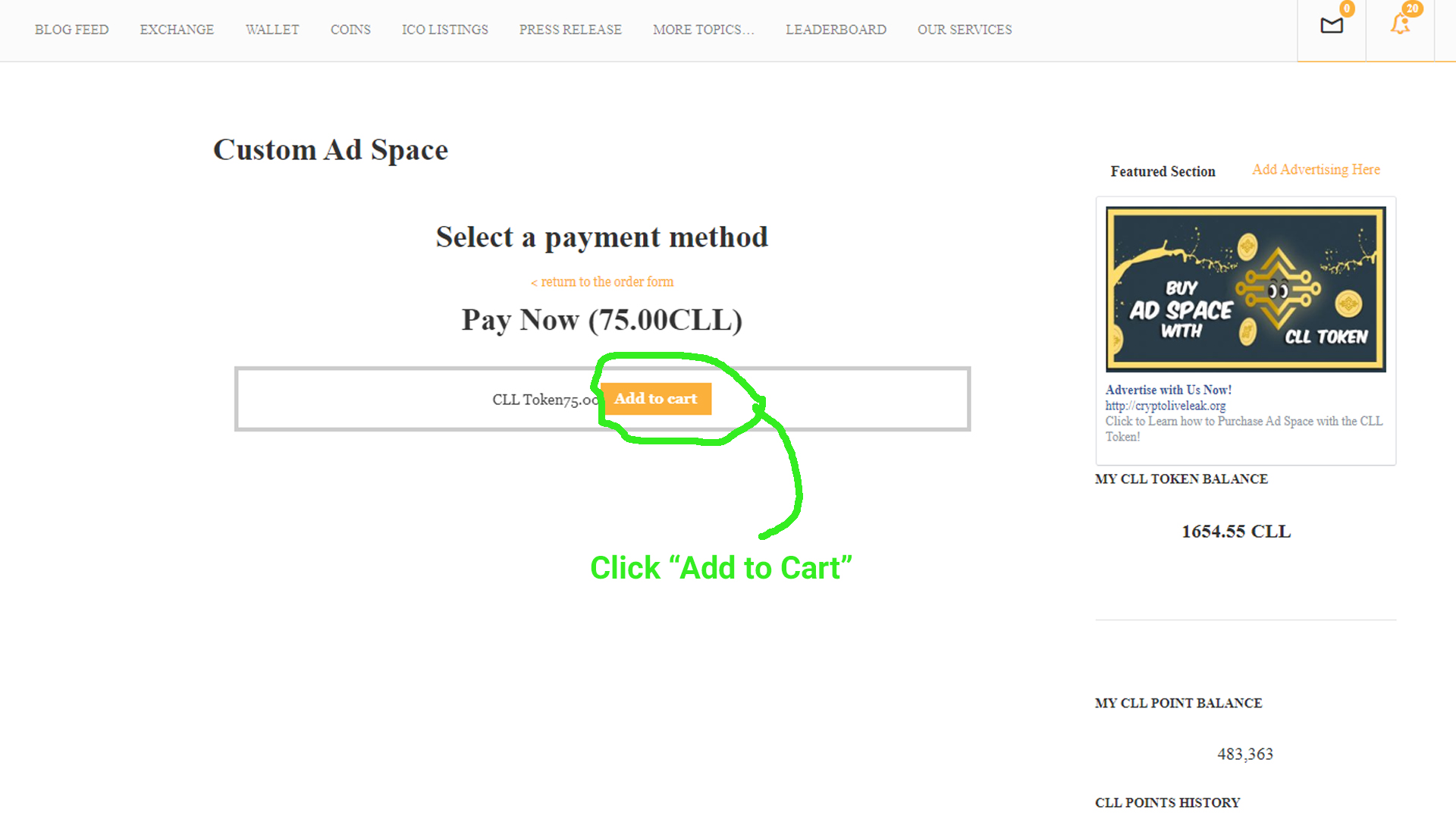 Step 4 –
Click "View cart"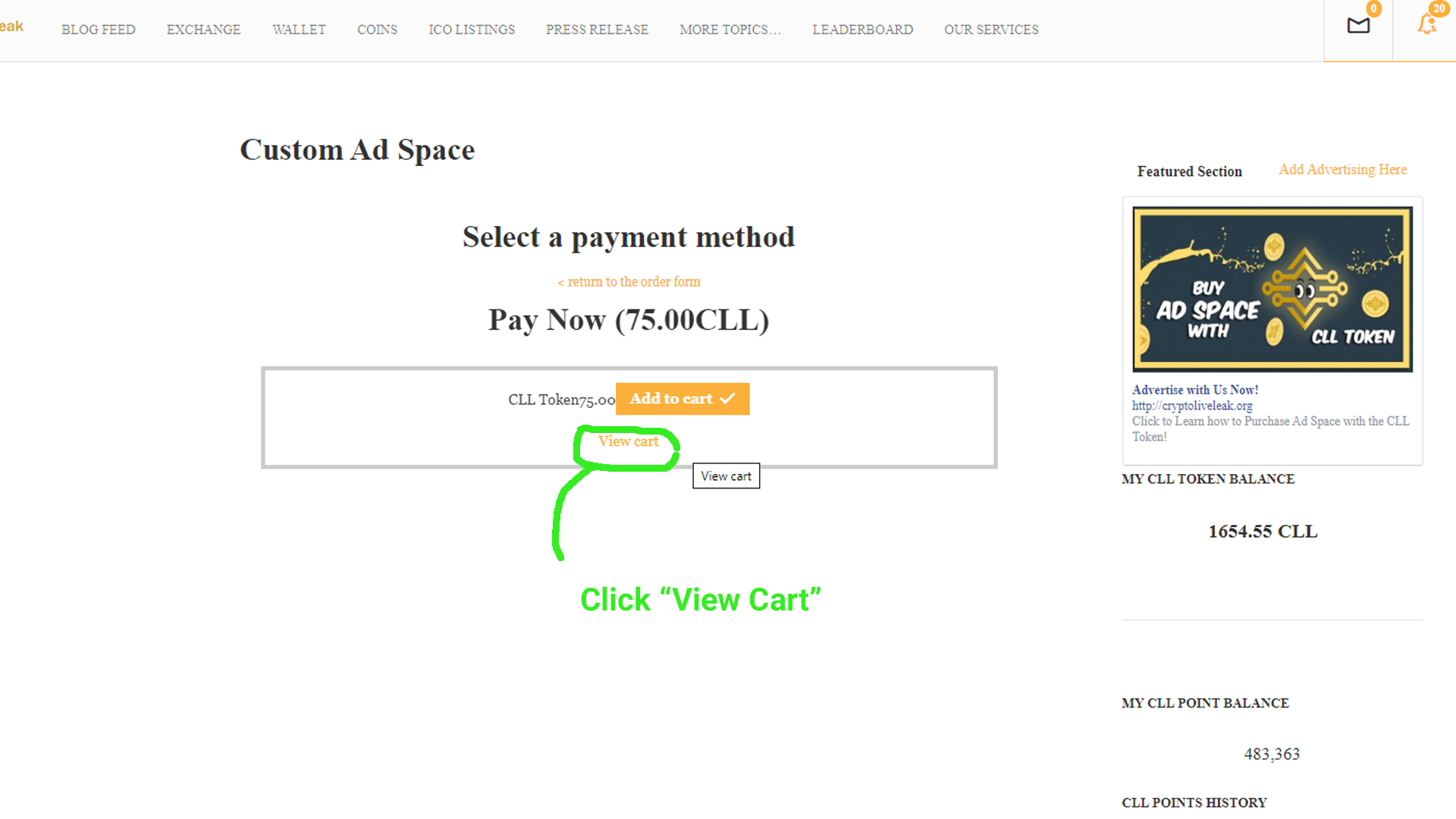 Step 5 –
Review order and Click "Proceed to checkout"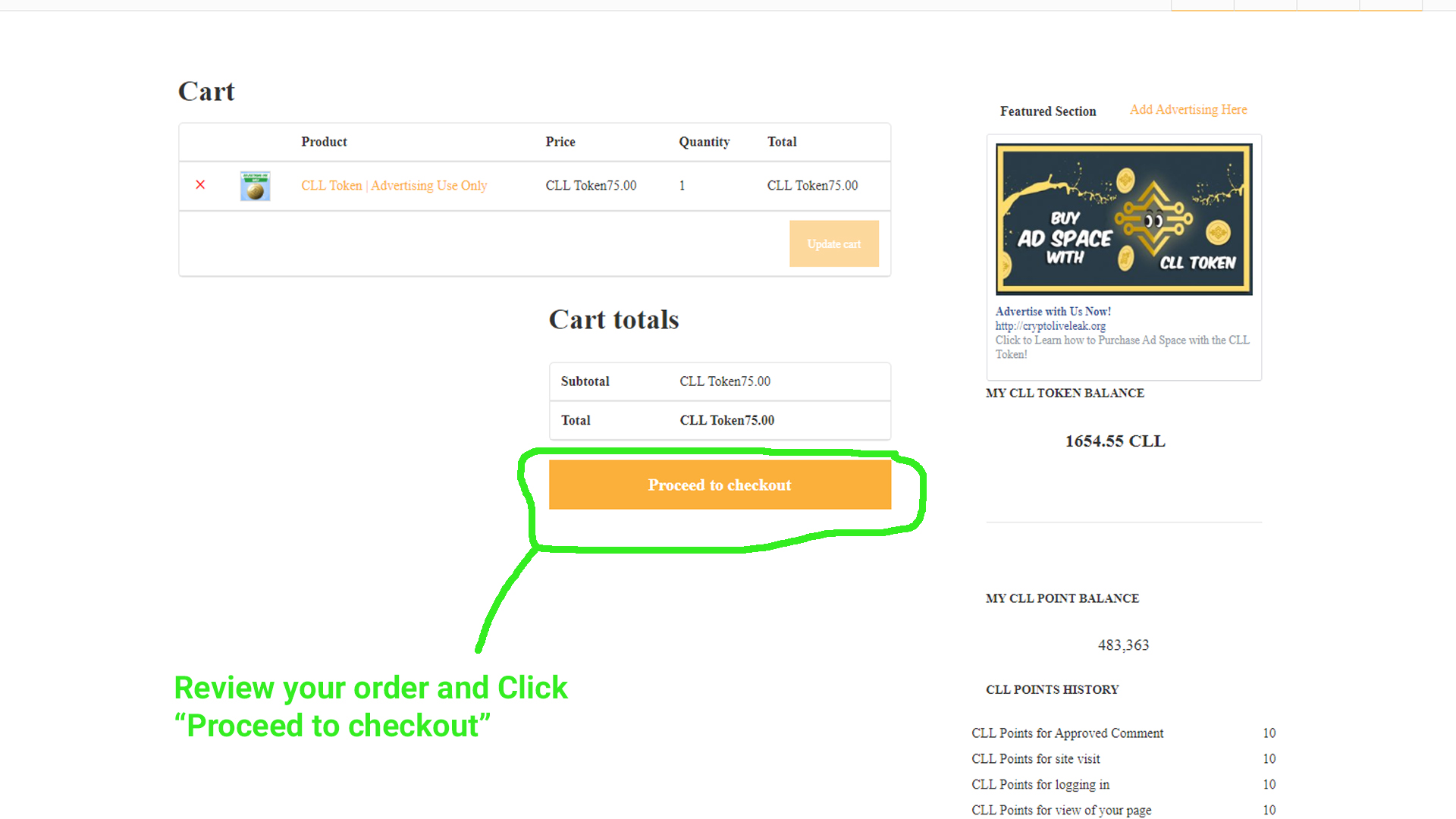 Step 6 –
Review order again, hit Terms and Conditions checkbox, Click "Place Order"
You must check the Terms and Conditions box before hitting Place Order.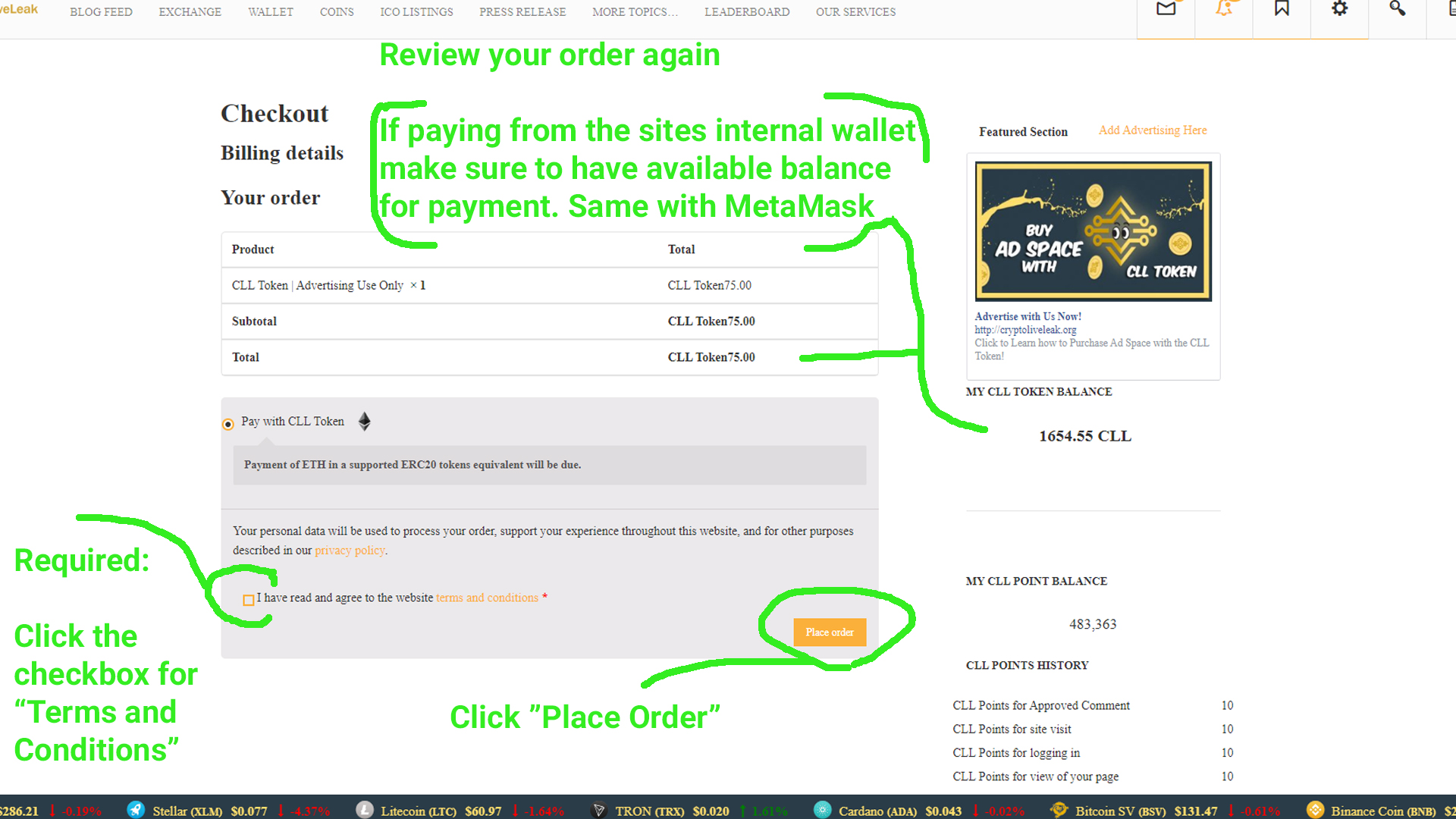 Step 7 –
Choose either MetaMask or QR code payment options
Click either option – we recommend using MetaMask – note your wallet must have enough CLL to send for payment as well as enough ETH to cover gas costs of sending the transaction (about $0.50 worth of ETH to be safe).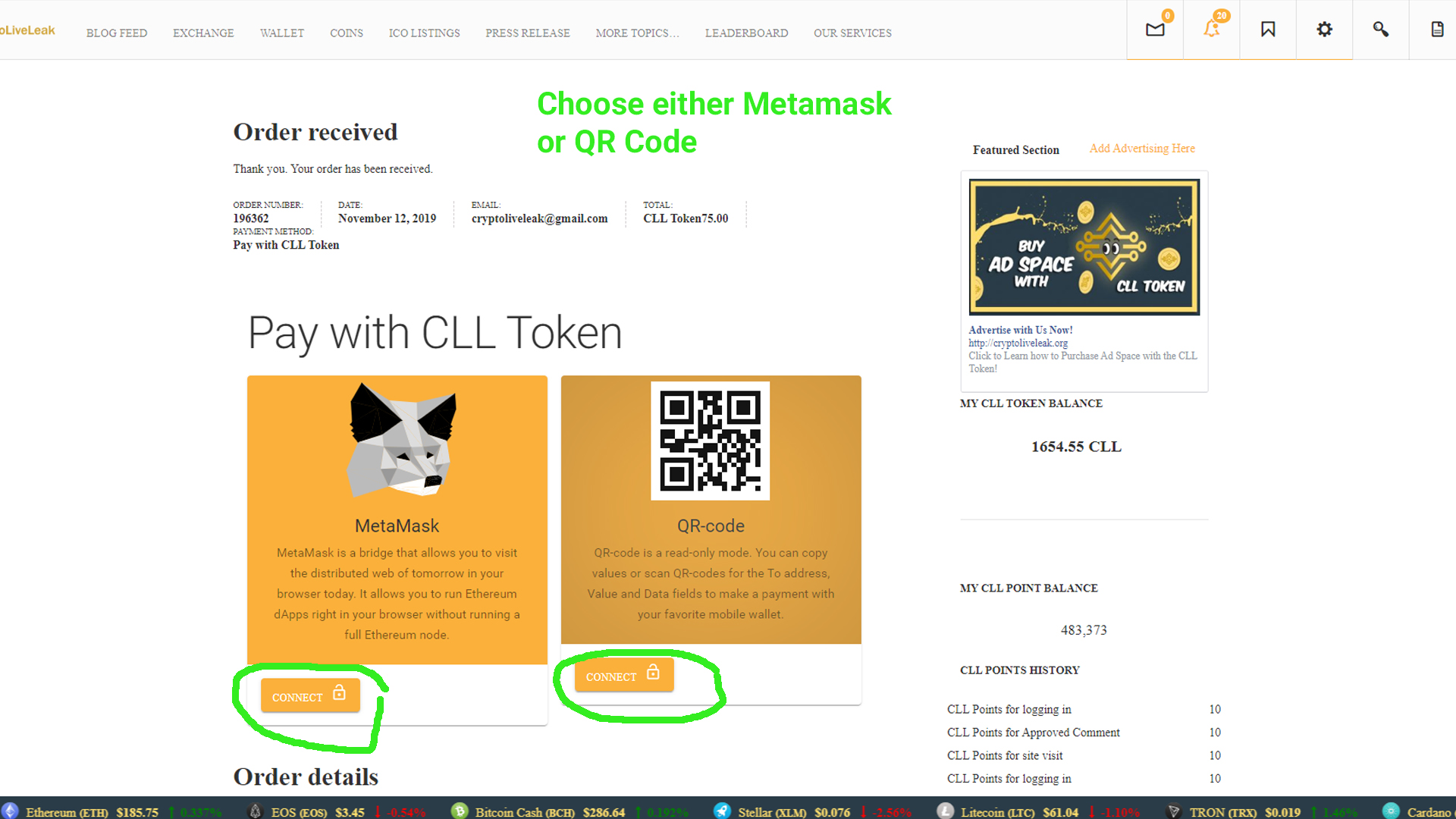 Step 8 –
Deposit the CLL token into the payment gateway
Once connected to MetaMask click "Deposit"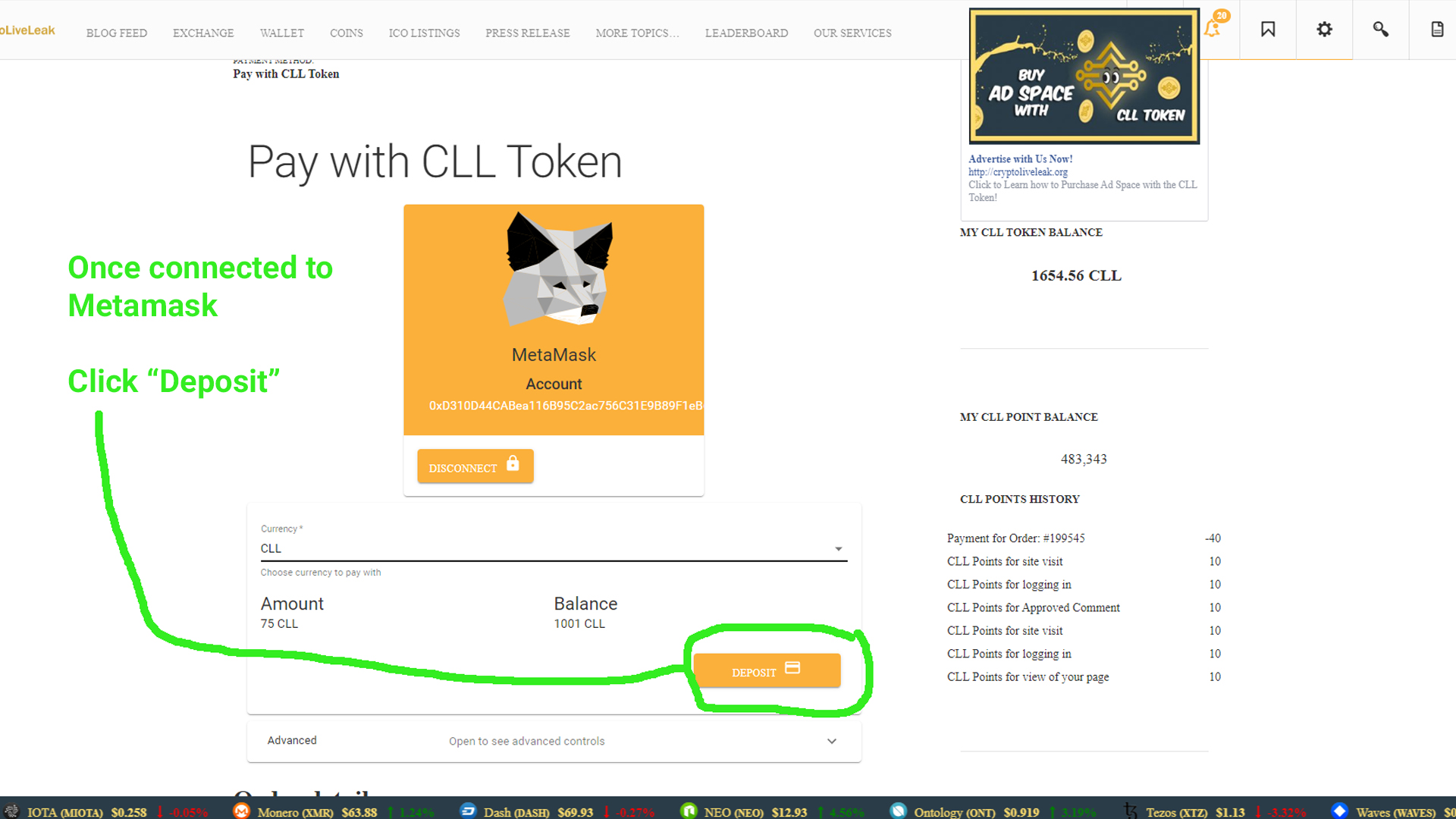 Step 9 – Hit Confirm on MetaMask to send the CLL Token
We are showing the MetaMask example – review the CLL Token and gas amounts – click "Confirm.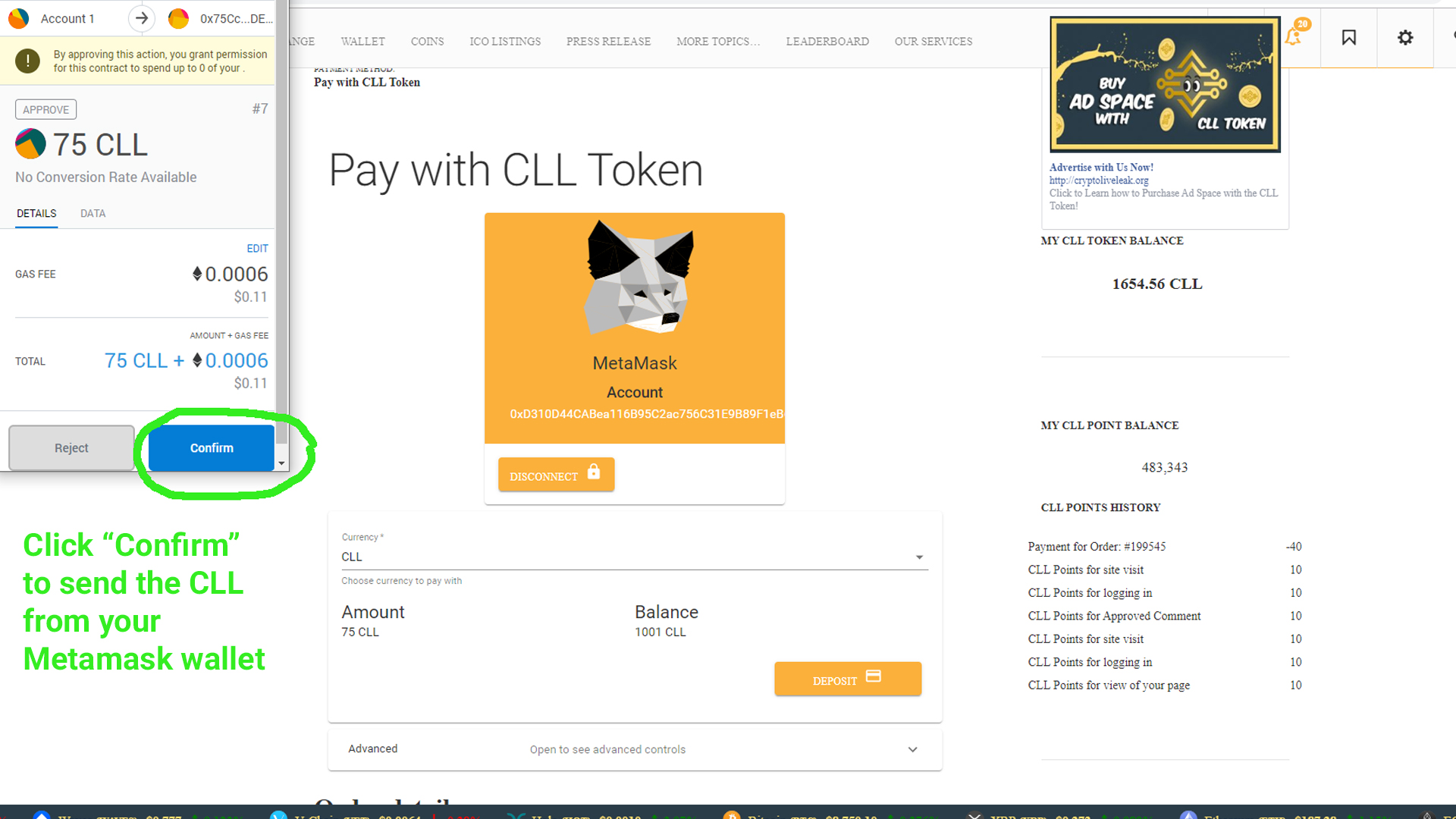 Step 10 – Wait for 2 confirmations on the blockchain
The transaction will confirm on the blockchain – please wait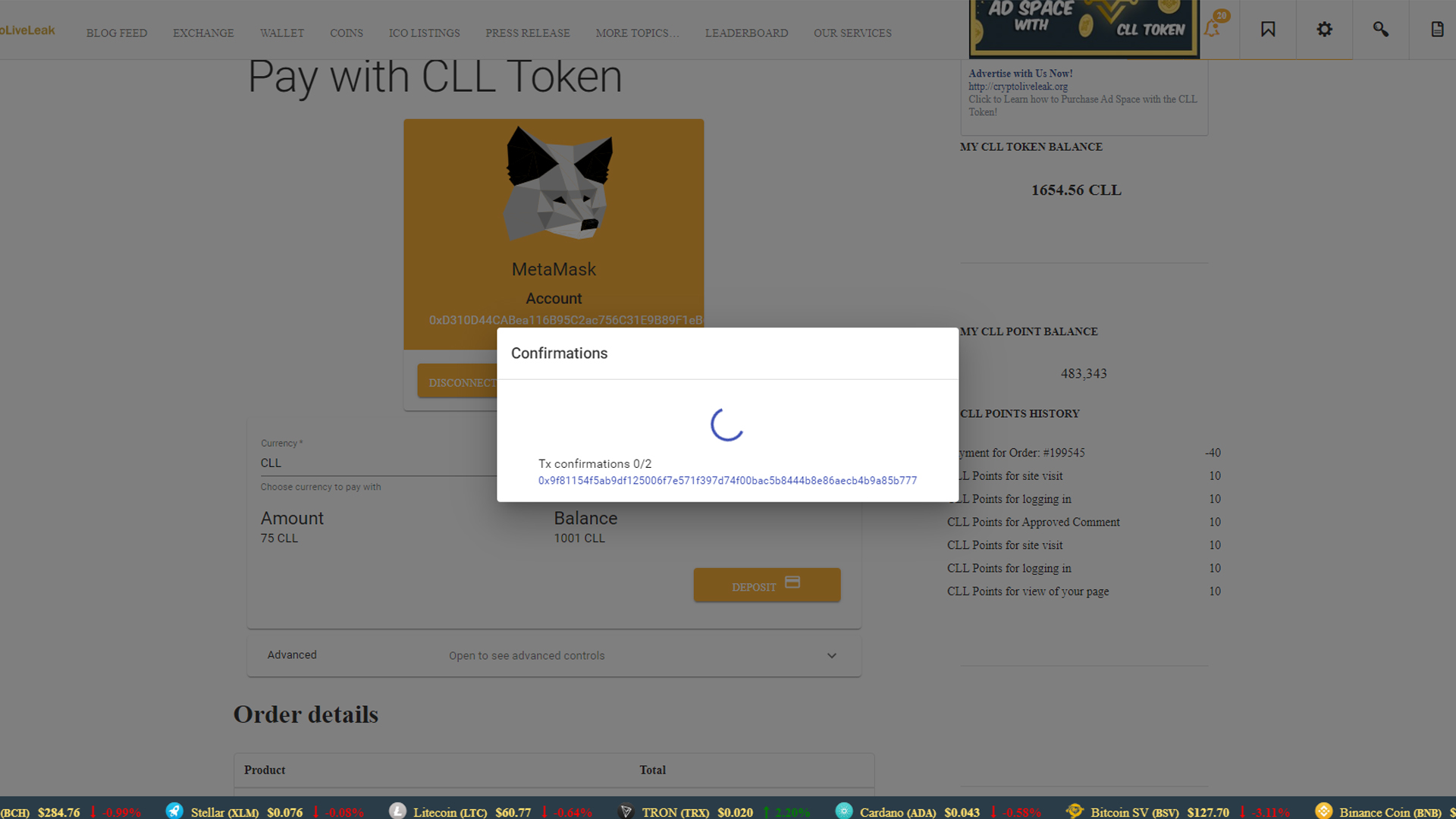 Step 11 – CLL Token has been deposited in the payment gateway – Click "Pay"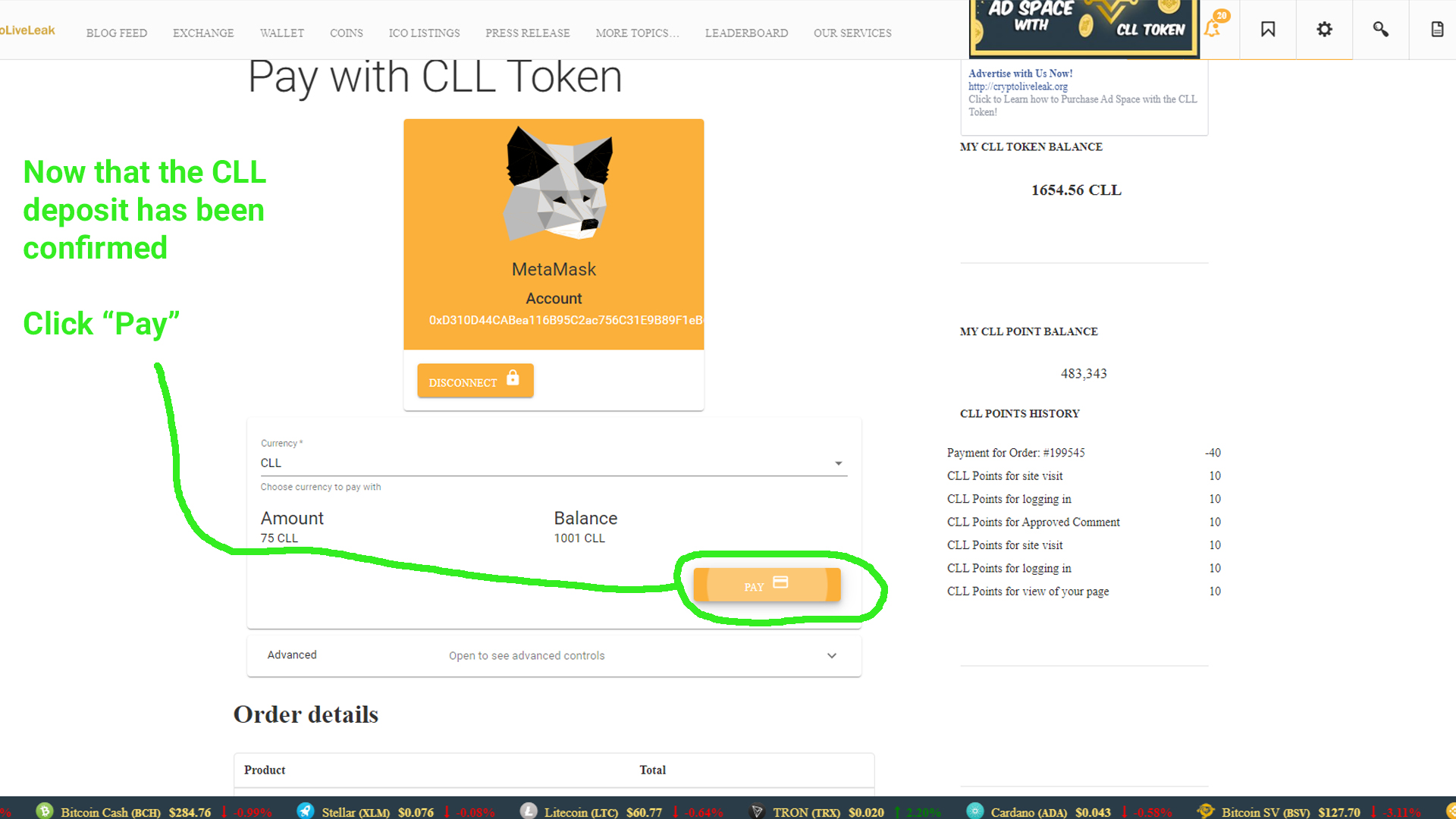 Step 12 – Hit Confirm on MetaMask to pay the second gas fee for Paying with the CLL Token
The CLL token is now being moved from the payment gateway into its final payment destination – gas must be paid here. Hit "Confirm" on the MetaMask.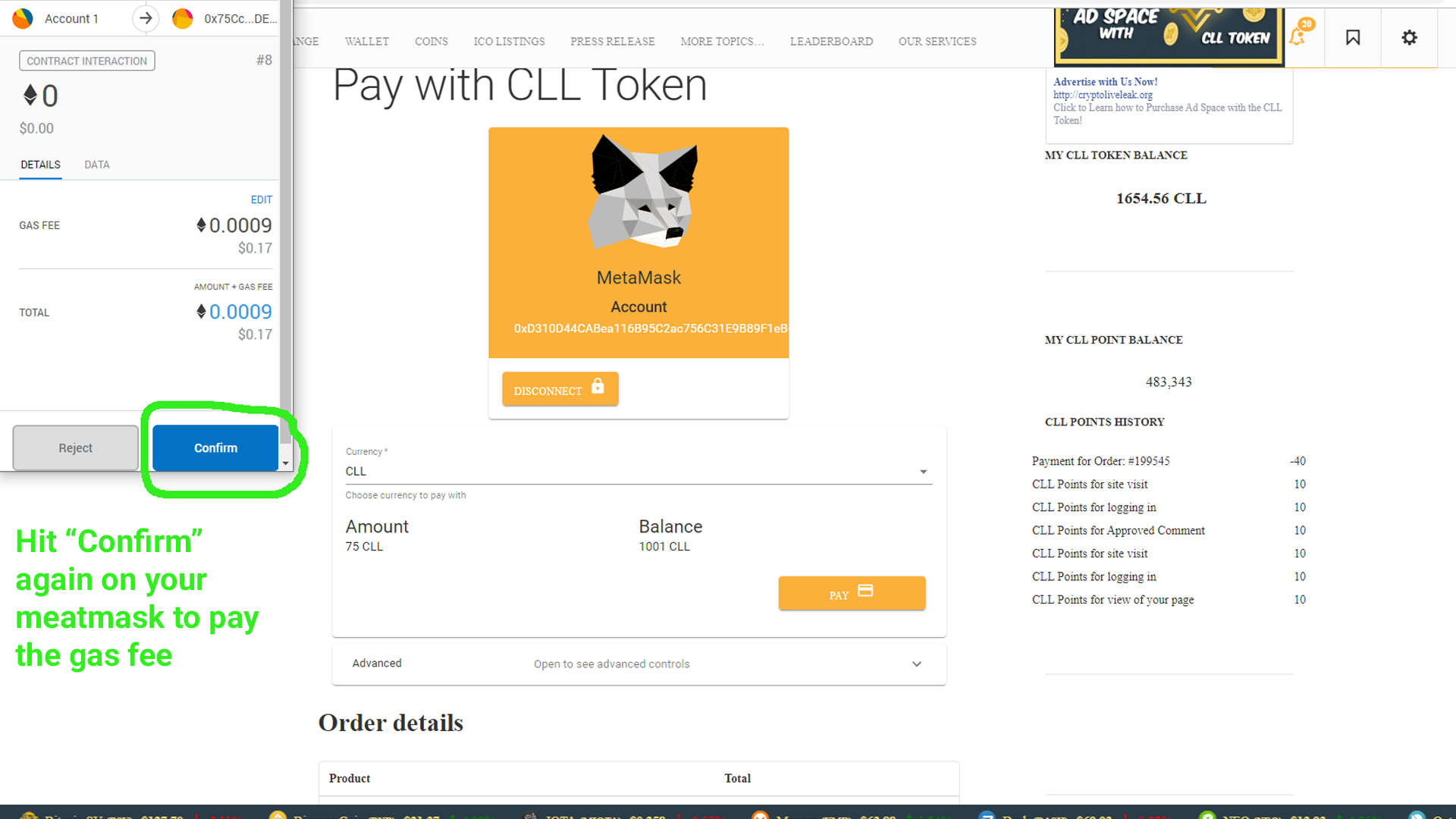 Step 13 – Wait for 2 confirmations on the Blockchain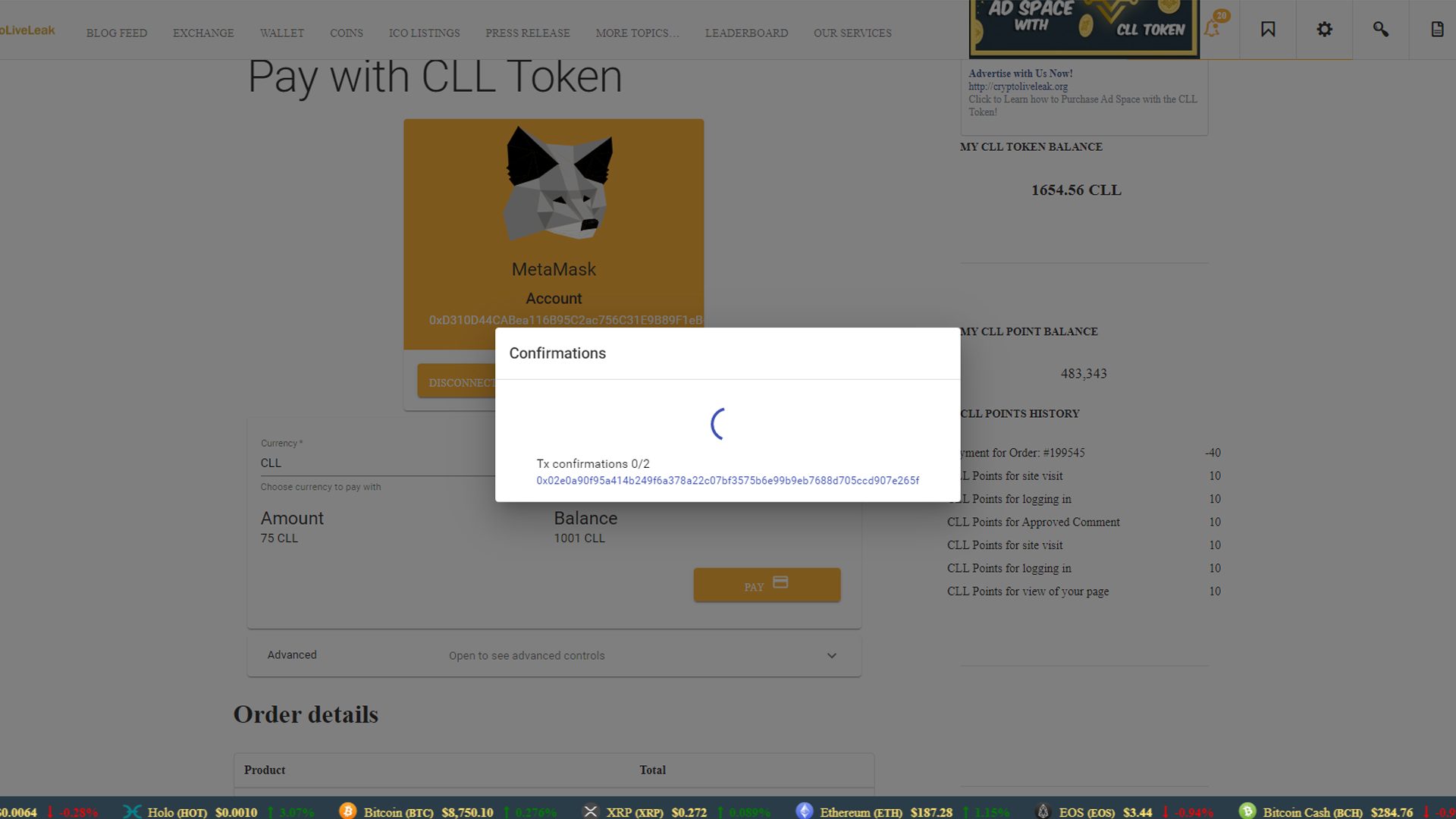 Step 14 – Order Completed!
Your advertisement is now LIVE and any performance statistics can be requested from admin@attentionmining.com.
Thank you for placing an advertisement on cryptoliveleak.org and paying with the CLL CryptoLiveLeak Token via Attention Mining.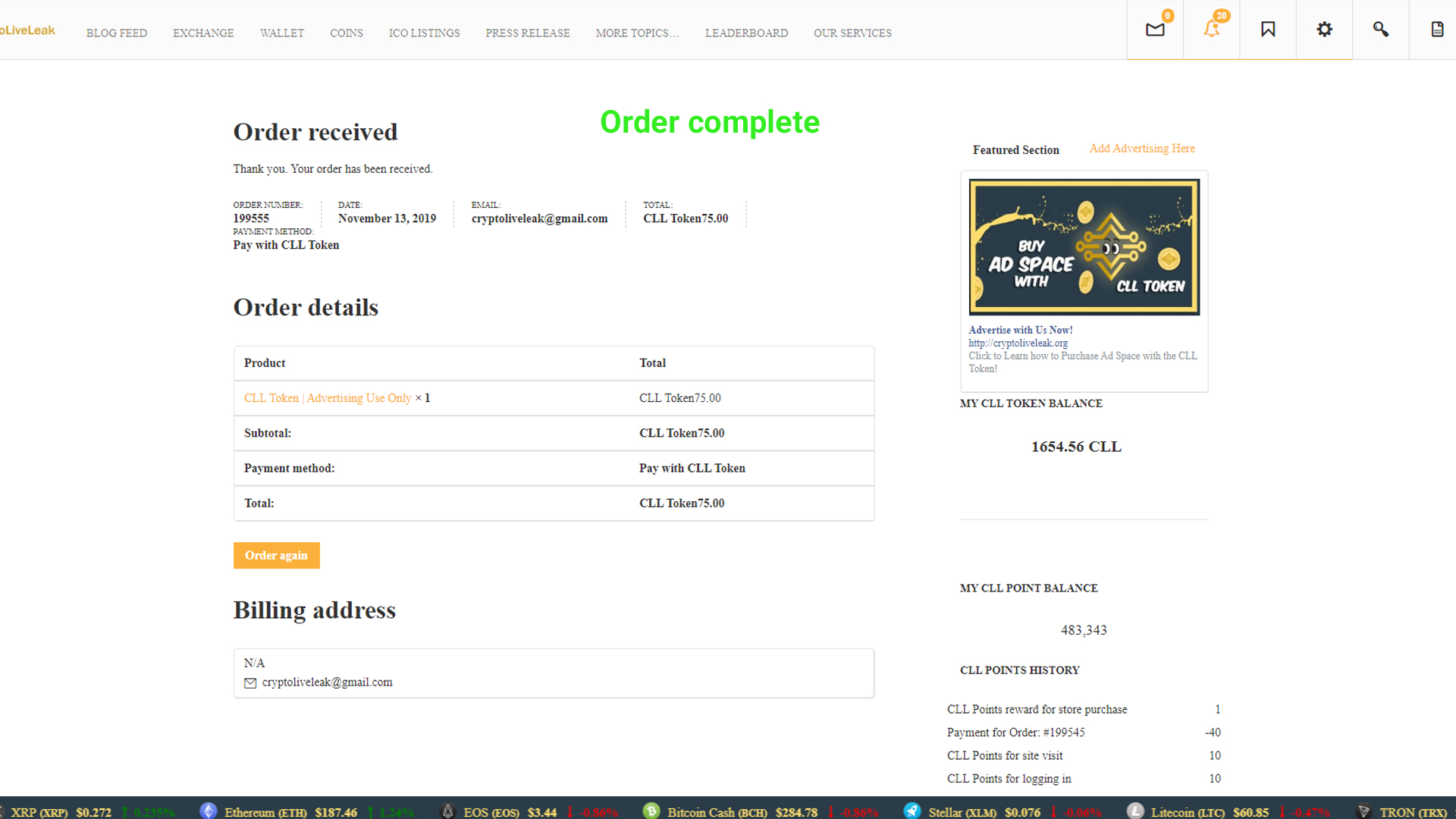 ***For any additional help with advertising placement, pricing, or general questions – please email admin@attentionmining.com***
© 2019 CryptoLiveLeak | Attention Mining™