Women in Blockchain, Trailblazing the path for newcomers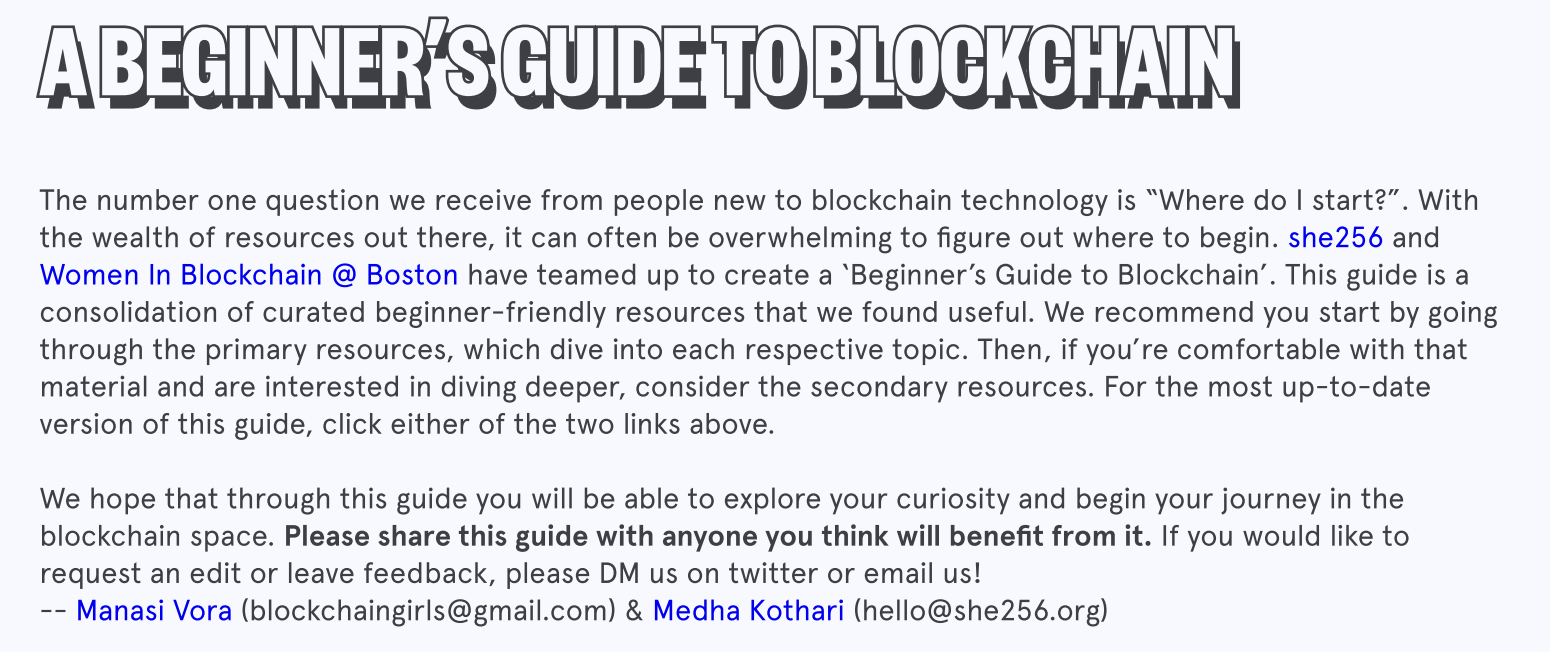 To all my newbies and beginners out there, I have something quite delightful for you. If you are looking for the best intro for Blockchain and Cryptocurrency, Manasi Vora and Women in Blockchain constructed a set of introductory videos that will knock your socks off. The guide they created is beyond anything you could ask for if you just want the facts and a straight to the point intro to the world of blockchain and much more.
https://skynethub.io/AABPnrxRM6TohQ3iqnvxg7Q4WZntQIO7LeZmOvMdvT5scA
Their guide breaks down all sectors of blockchain from cryptocurrency, bitcoin, ethereum, use cases, industry landscape, and even includes a crypto glossary just in case you get lost in any jargon. I had the opportunity to watch several of the videos, and I am very impressed with their work! As we continue to push towards the mass adoption of this technology it will be very important for people to have a baseline understanding of what is happening behind the scenes so that they can begin to trust the technology. Breaking the ideologies of the old can be a hard thing to do, and this guide does a tremendous job at giving new people a perfect place to start to learn.
I know when I first went down the rabbit hole of blockchain I noticed that there weren't many resources like this. I wish I would have had this when I first got interested in Blockchain technology. It would have saved me hours if not days of research and youtube video watching to find out what I wanted to know. Women in Blockchain are doing some really powerful things in the blockchain world and this only highlights their amazing capabilities. They are trailblazers in the field who are creating a pathway for more women to get involved and I truly admire Manasi and her team for their work.
We will be interviewing Manasi and her colleague in the upcoming days, so stay tuned for an interview which will be really cool to see what else they are working on. I know I greatly appreciate those who are creating communities in and around blockchain but more importantly those who are building the bridges for new people to participate and learn. The foundation of the blockchain industry is being built and Women in Blockchain are doing a tremendous job at helping lay the bricks for the future.
Reviews
Sharing